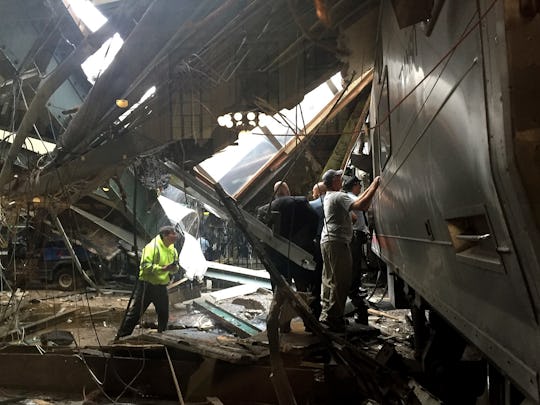 Pancho Bernasconi/Getty Images News/Getty Images
Photos From The New Jersey Train Crash Show A Potential Mass Casualty Event
A train crashed into a platform in Hoboken, New Jersey. The crash occurred on the Pascack Valley Line during rush hour on Thursday morning. Photos from the New Jersey train crash show a potential mass casualty event. Survivors from the scene told CBS News that the train slowed down — but did not stop — as it approached the platform. The train went through the stopper (also called a "derailer") on the tracks and slammed into the station at close to full speed. The New Jersey Transit office issued a statement regarding the crash mid-morning on Thursday:
At approximately 8:45 a.m. train #1614, a Pascack Valley line departure rom Spring Valley operating to hoboken, struck the Hoboken Terminal building on track 5. Initial reports indicate multiple critical injuries. Rail service in/out of Hoboken is suspended due to the incident. HBLR and PATH are also suspended into and out of Hoboken Terminal. NJ TRANSIT bus, private carries and ferry services are cross-honoring NJT rail tickets and passes.
No information has been released about what caused the crash but Federal investigators are en route to the scene, according to the Federal Railroad Administration.
The exact number of people injured has not yet been determined, but according to reports from news outlets at the scene, more than 100 are injured, some critically. Conflicting reports of at least one death — possibly three — have surfaced, but have not yet been confirmed.
There are also reports of trapped commuters, both on the train and in the station itself, as part of the building collapsed after the crash. Hospitals from communities surrounding Hoboken, as well as New York City, have responded to the scene.
It is not yet clear whether the train crashed into the platform as a result of a mechanical failure or a human error, but investigators have said it probably wasn't a deliberate act, according to CNBC. According to New Jersey Transit, service has been suspended for all PATH trains in and out of Hoboken station.
Hoboken is just five miles outside of New York City, and the station where the crash took place services many commuters — as many as 15,000 a day during commuter hours, according to a CNN estimate. The Hoboken terminal is a historic landmark: built in 1907, it's almost 100 years old.
Reports from CBS News say that the vast majority of those who were injured were not on the train, but rather, on the platform when the crash occurred. A spokesman for the Jersey Medical Center, one of several hospitals to receive patients from the scene, said in a press conference Thursday morning that the majority of the injuries are orthopedic (like broken bones) or internal injuries, and are under "constant supervision" by the emergency surgeons and critical care nurses.
This story is developing and will be updated as more information becomes available. . .