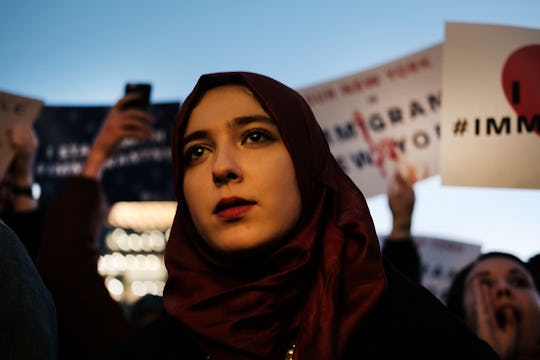 Spencer Platt/Getty Images News/Getty Images
The Washington Square Rally Is A Win For Humanity
The sixth day of Donald Trump's presidency was a win for xenophobia, from a policy perspective. In respect to the goal of gaining widespread support and adulation for the new president, not so much. That's because Americans are out in force protesting his newly signed directives, which take aim at an estimated 11 million undocumented immigrants already living in this country, as well his expected targeting of refugees seeking asylum here as early as Thursday. Perhaps some of the loudest collective voices of dissent rose up from New York City Wednesday evening, where crowds protesting these nationalistic policies gathered to again assert their commitment to resistance. Just as the nationwide Women's March Saturday reinvigorated the fight to protect all human's rights, photos from the Washington Square Park protests show that progressives aren't giving up soon.
The news of the day, which for many was simply devastating and terrifying, attracted the demonstrators to the Manhattan park, where they chanted "Say it loud, say it clear, refugees are here to stay," and condemned Trump's administration as "too male, too pale and too stale," Reuters reported. According to DNAinfo, New York City stands to lose about $7 billion because of Trump's pledge to withhold federal funding from so-called "sanctuary cities" that don't cooperate with the government's deportation efforts. New York, of course, is one of these, but it's not all about the money: Trump's orders will also increase the number of detention centers and federal border agents, The Washington Post reported.
Beyond that, reports indicate that the president will sign an executive order to bar Syrian refugees from entering the United States, and suspend immigration from Syria, Sudan, Somalia, Iraq, Iran, Libya, and Yemen, all Muslim-majority countries. This looming change, and the done-deal attack on Latino immigrants, prompted the New York chapter of the Council on American-Islamic Relations to hastily organize the "Emergency Rally for Muslim and Immigrant Rights" in Washington Square Park. "As a city of immigrants, we cannot stay silent in the face of such hate," the Facebook page for the rally reads. "We ask you to gather tonight (Wednesday), to show President Trump that all New Yorkers stand with our Muslim and Latino neighbors. Together, we will form a beacon of light against the coming darkness." More then 8,000 people RSVPd "yes" to the event.
At another protest in the neighborhood of Kensington, attendees declared the area a "hate-free zone" as they marched in solidarity with their immigrant and refugee neighbors, as NY1 reported. City Councilman Brad Lander of Brooklyn reiterated the intention of the gathering:
On this dark night, when xenophobia is the official executive order of the White House, we are proud to be standing with our Muslim neighbors, with our Bangladeshi neighbors here in Kensington, declare this a hate-free zone and make clear that we will stand with our immigrant neighbors, that we will stand with our Muslim friends.
Some participants started using the hashtag #NoBanNoWall on social media to promote the rally.
And many of them had a simple message: resist.
Donald Trump and his administration have shown that they are serious about making every effort to dismantle the legacy of inclusivity and equality that President Obama strived to leave behind. Now, it's up to us to defend it.