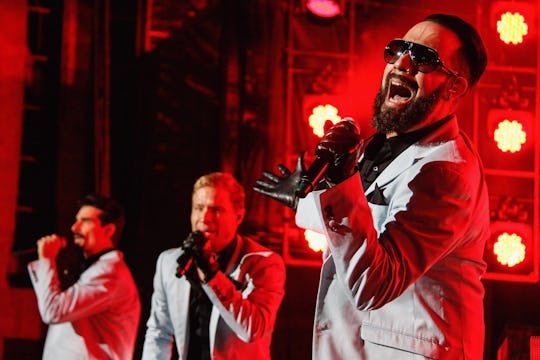 Janette Pellegrini/Getty Images Entertainment/Getty Images
AJ McLean & His Daughter Are The Cutest
Although you may have been just a teeny bopper when the Backstreet Boys first made their debut, the "boys" are all grown up now and have families of their own. This week, band member A.J. McLean announced the arrival of his second daughter, Lyric Dean McLean, with his wife, Rochelle. It was a happy occasion to be sure, and the little one will undoubtedly join the sweet ranks of "social media star" on McLean's various channels soon. Already, there are plenty of adorable photos of A.J. McLean with his kids — or at least one of them for the moment — that will make you smile, and little Lyric will only bring even more cuteness into the equation.
McLean was always the "goofball" of the boy band (every boy band has their types) and the pictures of him with his first daughter, Ava Jaymes, show that he never stopped having a good time. And she's got a thing for music, too. Whether it's videos of her jamming out on a keyboard or just being a silly toddler, you can tell that the pop star lets the good times roll, all of the time.
Ava is 4 years old, but baby number two was always in the stars for McLean. He and wife Rochelle talked about adopting late last spring and set a deadline — the end of March — to figure out if they were going to adopt or give it another try. Almost one year later, baby Lyric was born.
Without further ado, here's a small sampling of the adorable photos any Backstreet Boys super-fan will find absolutely perfect.
Tea Party With Minnie & "Monkee"
McLean captioned this photo, "Amazing day at Disney in the rain all day for my little monkee! Love this girl so much and had a blast rain or shine I'll do anything for my girls."
Rockin' Out With The Monkee
"Seriously dying rt now. Love this girl. #daddyslittlegirl," he wrote. She's pretty good, huh?
Uh, Was There A Mixup Here?
Hey, uh, dad, what's a girl gotta do for a ride here? McLean wrote that she does "steer the ship" in their house, so this set-up was fitting.
Rocking Out
This was taken on Ava's birthday. McLean wrote, "Thank you for keeping me young and always inspiring me in every aspect of my life. I hope I make u proud to call me your dad. I love u Ava may all your birthday wishes come true!"
She's Already Got VIP Status
Summer wardrobe goals, all around.
Now We're Just Jealous
OK, this isn't McLean with Ava, obviously, but the tot got to meet everyone's favorite pop-rockstar, too. McLean captioned the photo, "Thank you so much to @gwenstefani for being so rad and sweet with my baby girl! Ava was so star struck I love it. Daddy's crush is now one of my daughters favs!"
Family Time
For his wife's birthday, the then-family of three went out and grabbed some grub. "Best birthday dinner for the wifey tonight. I love these girls all three ha! #theoldplace. Such great food. Now it's time for bed. Ha," McLean wrote of the evening.
Football & Manis
Exactly what it looks like — "Football and manicures," McLean captured this sweet snapshot. (You have to love a guy who can get a manicure with his daughter.)
Movie Night
"Got the whole place to ourselves," McLean wrote. Is that their house? I need more deets.
With baby number two in the house, there are bound to be many more too-cute-for-words family photo ops. Once they get into the swing of things with little Lyric of course.