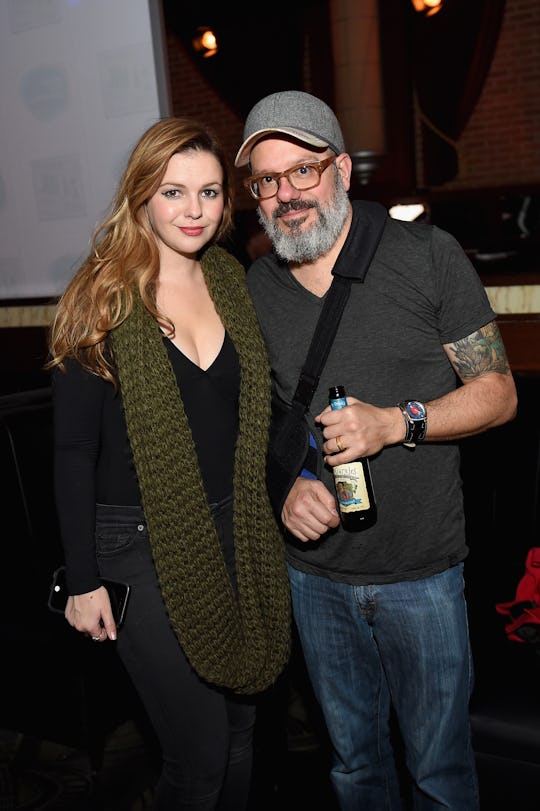 Nicholas Hunt/Getty Images Entertainment/Getty Images
Amber Tamblyn & David Cross Are #RelationshipGoals
Sometimes, it seems like celebrities are a sort of other-worldly creature, created by machines to have flawless hair, poreless skin, and the perfect candid-photo ready laugh. Other times, the world reminds us that, while they may still be genetically gifted, there's a group of relatable, down to earth celebrities who actually seem to be just like us! Such is the case with Amber Tamblyn and David Cross, a total power couple who prove that money and power and fame don't necessarily have to mean morphing into a robot. And these photos of Amber Tamblyn and David Cross show real and relatable the couple really is.
Really, that's not really all that surprising, especially when you consider the couple's super real comments about parenthood, breastfeeding, and yes, Donald Trump. Tamblyn, who gave birth to her first child, a daughter, in late February, jokingly took to Instagram that month to announce the news. "David and I are proud to announce the birth of our daughter, Dauphinoise Petunia Brittany Scheherazade Von Funkinstein Mustard Witch RBG Cross Tamblyn-Bey jr.," Tamblyn wrote in the caption. "#TheFutureIsFemale."
Since then, the new mom has continued to be a badass, posting honest, relatable photos about parenthood, politics, feminism, and — who else? — her equally badass husband, Cross.
Check out some of their sweetest photos below:
Tamblyn, 33, and Cross, 52, were married back in 2012, and both actors share a dry, sarcastic sense of humor that translates very well across their posts (it also makes it that much easier to tell just how in love they are).
While some have criticized the couple for their 19-year age difference, their quirks are all just a part of their charm. In fact, at a comedy show the couple performed at together in 2012, Cross said, "I was slow to make any moves because of our age difference, and also because she was a fan." Of course, Tamblyn couldn't let him have the last word, and poked back, "If anyone's wondering, I'm 14!" according to The Huffington Post.
The two dated for four years before getting engaged, and host a lot of envy-inducing parties with fellow celebrity friends, like Amy Poehler. And as if that wasn't enough to cause you to file for adoption, these other photos will probably do the trick:
Keep on being yourselves, you two. The world needs more people like you — and Dauphinoise Petunia Brittany Scheherazade Von Funkinstein Mustard Witch RBG Cross Tamblyn-Bey jr will definitely be the coolest kid on the playground.