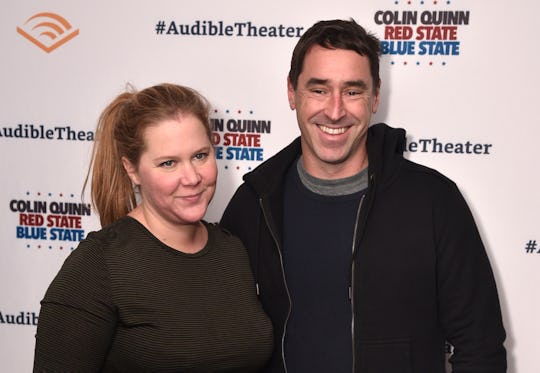 Bryan Bedder/Getty Images Entertainment/Getty Images
These Photos Of Amy Schumer & Her Hubby Showcase Their Sweet & Silly Relationship
Comedian and actress Amy Schumer has a new Netflix comedy special coming out today, March 19, that promises to be as funny and unhinged as everything else she's done. And one of the things she talks about in it is her husband, touching on their marriage, his proposal, and his diagnosis on the autism spectrum, according to USA Today. In photos of Amy Schumer and her husband Chris Fischer, it's easy to see their tremendous love for one another. It's also easy to tell that they are hilarious, and one of the most relatable couples around.
Schumer gets real about her marriage, pregnancy, and settling down in Growing, her latest stand-up special with Netflix. The special is great news for fans, many of whom were left disappointed (but understanding) when she had to recently cancel the rest of her tour dates due to the hyperemesis gravidarum she's suffered with throughout her pregnancy, as Entertainment Tonight reported.
"Due to complications from hyperemesis I am not cleared to fly for the next couple weeks I am going to cancel the remainder of my tour," she shared on her Instagram. "... The baby and I are healthy and everything looks good. But I am in my 3rd trimester and I am still nauseous all the time and vomiting. I vomit mostly every time I ride in a car even for 5 minutes."
Though it was bummer to hear she wouldn't be performing, moms can certainly empathize with Schumer. But with her new comedy special to fill the gap, fans also get to hear more about love life and relationship with Fischer. And here are few photos of the comedian looking adorable with her man that prove their love is as real as it gets.