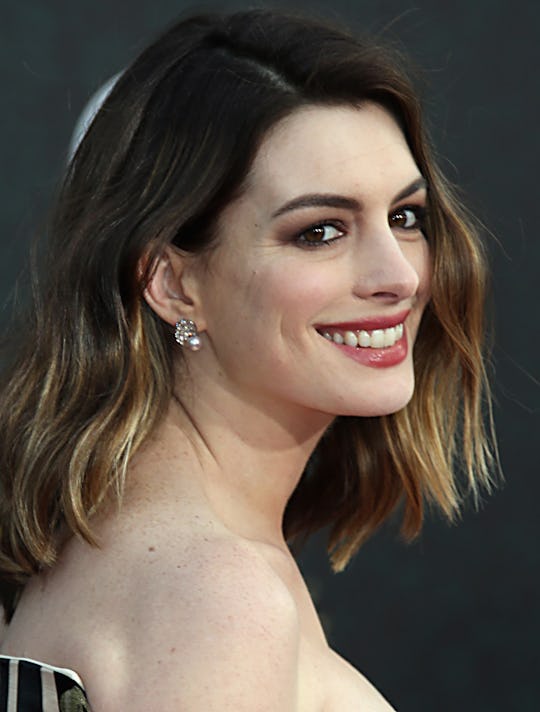 Frederick M. Brown/Getty Images Entertainment/Getty Images
Photos Of Anne Hathaway's Son Are Hard To Find, Maybe For A Reason
Anne Hathaway treats her 6.1 million Instagram followers to behind-the-scenes snapshots, political messages, and the occasional selfie. But for fans scrolling through her feed, there is one part of her life that is mostly unrepresented: motherhood. Hathaway gave birth to her first child in March, but it seems as though she's eager to keep her family life private. Photos of Anne Hathaway's son are seriously hard to come by, but the actor is open about how much she loves being a mom.
On March 24, Hathaway gave birth to her son with husband Adam Shulman, PEOPLE reported. Fans first learned she was pregnant in November. And though she stepped out on the red carpet a few times since the announcement, she didn't talk about her pregnancy often on social media. In one seriously strong move, she did take control of the narrative by posting her own bikini picture complete with a pregnancy bump. But once son Jonathan Rosebanks Shulman came into the world, Hathaway went mum on social media about her little guy.
That doesn't mean she hasn't referenced being a mom. Hathaway's Instagram posts include a photo of a pair of jeans she cut into shorts and wrote a caption embracing post-pregnancy body love: "There is no shame in gaining weight during pregnancy (or ever)," it read in part. She's also spoken openly about life as a new mom. When Jonathan was eight weeks old, Hathaway's interview on The Ellen DeGeneres Show revealed that giving birth boosted her confidence. Shulman told PEOPLE what Hathaway is like as a mom: "She always amazes me. As a mother, she is gorgeous."
Unfortunately for fans, most of the images in existence of Hathaway and Shulman's son seem to be paparazzi photos. Though it doesn't appear that Hathaway explicitly mentioned wanting to give her baby some privacy, it makes sense why she would: Hathaway spoke out against cyberbullying after enduring brutal online attacks. She's also open about the steps she takes to curate her life online. When Hathaway's bikini baby bump picture went up on Instagram, E! News reported that she did it in order to ensure she'd be able to control the first images of her pregnancy. Hathaway outlined her reasoning in the caption:
So, posting a bikini pic is a little out of character for me, but just now while I was at the beach I noticed I was being photographed. I figure if this kind of photo is going to be out in the world it should at least be an image that makes me happy (and be one that was taken with my consent. And with a filter).
Fans may have to wait to see if any Hathaway family photos make it online. But by keeping personal photographs personal, Hathaway is exercising her own power to control her story and give her son time to grow up a bit before getting a permanent place in the spotlight.