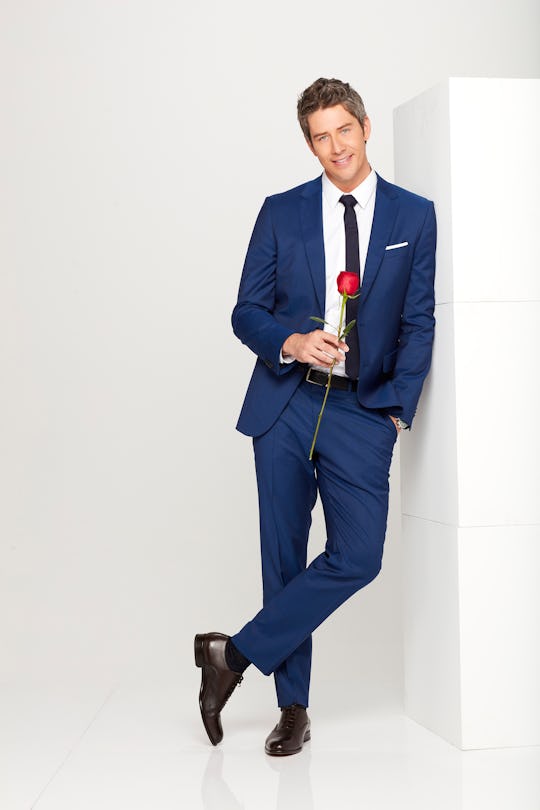 Craig Sjodin/ABC
Photos Of Arie's 'Bachelor' Cast Show 29 Women Who Are Ready For A Shot At Love
Well, the time is finally here. For years — no, really, I mean years — we've been waiting for our new ABC leading man to get his shot at love. At the risk of sounding dramatic, Arie Luyendyk Jr.'s Bachelor announcement was probably one of the biggest upsets in Bachelor history. What about Peter! What about Eric! What about literally anyone else who has been on the show in the last two years. But, with time comes acceptance, and now that photos of Arie Luyendyk Jr.'s Bachelor cast are out, I'm fully turning around my parade float for Peter Kraus and accepting that Arie (and the women competing for his heart) is probably going to be great.
It wasn't long ago that Bachelor fans waited to find out who would be the next Bachelor. Many hoped for Peter, who couldn't fully commit to Rachel Lindsay in the spring Bachelorette finale. There was still a minuscule hope within me that thought Peter would turn around in his ways and realize we (America) believe in him, thus — by sheer force of fan love — magically become the Bachelor. That didn't happen. Instead, Good Morning America announced that Emily Maynard's runner-up, Arie, would be the next Bachelor. He was a fan favorite at the time. He had been passed over for the gig many times before. In some ways, this was a role longtime coming.
Which brings us to now, not far off from the premiere of Arie's Bachelor season. ABC has recently released the cast list of the women who will be competing for the race car driver's heart. But who will walk away with the final rose? Take a look through all of the women below to figure out who you think Arie will end up with.
Alison Harrington
Ali is 27 and a personal stylist from Dallas.
Amber
Amber is 29 a business owner from Denver.
Annaliese Puccini
Annaliese is 32 and an event designer from San Francisco.
Ashley Luebke
Ashley is 25 and a real estate agent from West Palm Beach, Florida.
Becca Kufrin
Rebecca, goes by Becca, is 27 and a publicist from Minneapolis, Minnesota.
Rebekah Martinez
Rebekah, goes by Bekah, is a nanny in Los Angeles.
Bibiana Julian
Bibiana is 30 and an executive assistant from Miami Beach, Florida.
Brianna Amaranthus
Brianna is a 25-year-old sports reporter from Portland, Oregon.
Brittane Johnson
Brittane is a 27-year-old marketing manager from L.A.
Brittany
There's also Brittany, who spells her name differently from the other Brittane, who is 30 and a tech recruiter from Austin.
Caroline Lunny
Caroline is a 26 realtor from Ft. Lauderdale, Florida.
Chelsea Roy
Chelsea is 29, a real estate executive assistant, and a single mom from Portland, Maine.
Jacqueline Trumbull
Jacqueline is 26 and a research coordinator from New York.
Jenna Cooper
Jenna is a 28-year-old social media manager from Raleigh, North Carolina.
Jenny
Jenny is 25 and a graphic designer from Chicago.
Jessica Caroll
Jessica is a 26 television host from Santa Monica.
Kendall Long
Kendall is a 26-year-old creative director from Los Angeles.
Krystal Nielson
Krystal is a 30-year-old fitness coach from San Diego.
Lauren Burnham
Lauren B. (no, not that one), is 25, a technology salesperson, and from Dallas.
Lauren Griffin
Our second Lauren — Lauren G. — is 26 and an executive recruiter from L.A.
Lauren Jarreau
Our third Lauren (Lauren J.) — just wait — is 33, a recent master's graduate and hails from New Roads, Louisiana.
Lauren Schleyer
Yes! There are four Laurens on this season of The Bachelor. Lauren S., who is by no means the "fourth Lauren" but just so happens to be the fourth Lauren due to alphabetical order, is 31 and a social media manager from Dallas.
Maquel Cooper
Maquel is a 23 photographer from Orem, Utah.
Marikh Mathias
Marikh is a 27 years old and is from Salt Lake City.
Nysha Norris
Nysha is 30, an orthopedic nurse, and lives in Anderson, South Carolina.
Olivia Goethals
Olivia is a 23-year-old marketing associate from Chicago.
Seinne Fleming
Seinne is a 27-year-old commercial real estate manager from Newport Beach, California.
Tia Booth
Tia is 26, a physical therapist, and lives in Weiner, Arkansas.
Valerie Biles
Valerie is a 25-year-old server from Nashville.