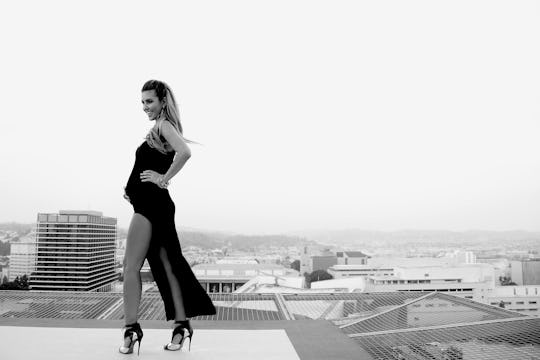 Matt Winkelmeyer/Getty Images Entertainment/Getty Images
Photos Of Audrina Patridge's Daughter Kirra Show Just How Smitten Her Parents Are
The former star of The Hills and her fiancé, Corey Bohan, welcomed their first child, a baby girl, on June 24. But, up until now, fans have only had a very brief glimpse of their bundle of joy — just her toes, actually! But last night, Patridge took to her blog to share some adorable photos of her 2-month-old baby girl. Photos of Audrina Patridge's baby girl, Kirra, show just how happy she is and just how much her parents are smitten with her.
Patridge and Bohan (a professional BMX rider) have been dating since 2008 (and had their first date chronicled on an episode of The Hills) and took their relationship to the next level last fall when they got engaged. Bohan, who is Australian, proposed by taking her out for a romantic dinner and having the waiter bring the dessert plate out on a silver platter — and when he lifted the lid, Patridge saw the ring and knew Bohan was asking her to marry him.
Patridge, 31, has been busy since The Hills ended: she was on Dancing With The Stars, has hosted numerous reality TV shows and even had her own for a while. She's also had a role in Scary Movie 5 (2013) as herself, which is a role you could say she was born to play. But it seems she's super psyched about her latest role of mom, too.
On her blog, Patridge writes that Kirra is "the happiest, most beautiful baby with a constant smile and lots of goo-ing and gaa-ing! She loves giving Corey and I the biggest smiles, but I can't wait until she giggles for the first time," and notes that the little one is already sleeping "6-7 hours a night (only waking up once or twice)." There's no way reading that isn't making parents everywhere envious.
Patridge, who had a C-Section and has been recovering, also wrote about how the last couple of months have certainly had their challenges — but she's grateful to have had help from family and friends.
If I'm being completely honest, the first month of no sleep, C-Section recovery, unpacking, and getting back into the swing of things was pretty grueling. But, at the end of the day, all I had to do was take one look at Kirra and none of that mattered anymore.
She also mentioned that though she's feeling well, getting back to her "pilates grind" has proved to be a little challenging:
Kirra is 8-weeks old now, and our lives are starting to settle down to normal. I'm no longer experiencing pregnancy brain, a roller coaster of emotions, or a lack of energy — In fact, I am officially back on my Pilates grind! But let me tell you, my core does NOT work out the way it used to… but I will get there!