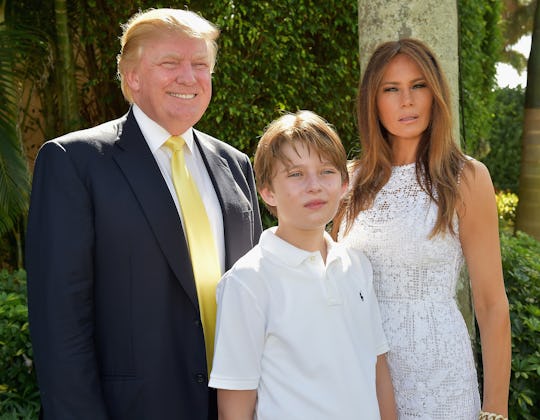 Gustavo Caballero/Getty Images Entertainment/Getty Images
Photos Of Barron Trump Show That The 10-Year-Old Is Already Living The Good Life
In the past year, most Americans learned more than they ever thought they would about businessman Donald Trump. Now that the former reality television star is the presumptive Republican nominee, the focus isn't just on the potential president but on his family. While his wife, Melania Trump, and adult children take turns campaigning with him, his youngest son mostly stays out of the spotlight. Photos of Barron Trump show that, while he may have many of the interests of a typical 10-year-old, he's also had experiences most children could only dream of. Barron may be looking at life in the White House, but it's clear that he's already accustomed to luxury.
Though Trump is the only one from his family who tends to be in the spotlight, he's actually got quite a large clan with many accomplishments of their own. His wife spent much of her career as a supermodel; according to TIME, Melania's jewelry and skincare lines are her focus now. Trump has five kids. Donald Trump Jr., Ivanka Trump, and Eric Trump all work for the Trump Organization; their mom was Trump's first wife, Ivana Trump. Second wife Marla Maples gave birth to Tiffany Trump, but Tiffany reportedly did not see her father often during her childhood. Barron is Trump's fifth child, and his only child with third wife Melania. As the littlest kid in the family, he's spending a lot of time with his parents.
Melania is a stay-at-home mom, and she takes the responsibility of raising Barron seriously. The former model told Parenting that she tries to listen carefully to her son, encouraging him to be an individual while allowing him to make mistakes and have the experiences needed to grow:
When they do they will learn how to pick themselves up on their own when you aren't around. If he says no, we listen to him. It's no and we don't try to change it. It's important to let them be who they are.
Barron gets plenty of one-on-one time with Melania. Donald told People that while they do hire people to offer support in the home, the Trump family tries to do as much as possible on their own: "If you have too much help, you don't get to know your children," Donald said. That means that Melania shoulders many of the parenting responsibilities, but she doesn't seem to mind. In her interview with Parenting, she said that she's okay with Donald taking a step back from daddy duty to focus on business:
He didn't change diapers and I am completely fine with that. It is not important to me. It's all about what works for you. It's very important to know the person you're with. And we know our roles. I didn't want him to change the diapers or put Barron to bed. I love every minute of it.
The littlest Trump seems to be a lot like his father. Melania told People that Barron shares many personality elements with his dad:
He is a very strong-minded, very special, smart boy. He is independent and opinionated and knows exactly what he wants. Sometimes I call him little Donald. He is a mixture of us in looks, but his personality is why I call him little Donald.
Though the similarities may be due in part to osmosis, Melania said that Barron really does look up to Donald: "He likes the way he talks, the way he is. They have beautiful respect and admiration for each other."
One thing Barron may also get from his dad is an appreciation for the finer things in life. GQ quoted Melania saying that Barron is "not a sweatpants child." Melania told Parenting that the boy has an entire floor of a building to himself and gets to make many of the decorating choices, balancing a love of cars and airplanes with a mature preference for a "clean and white" aesthetic. In 2013, Melania revealed to ABC News that she even finished Barron's baths by slathering him with Caviar Complex C6 moisturizer from her own skincare line.
There are hints of normalcy in Barron's life. This 2009 photo shows him dressed as an astronaut for Halloween. Melania told Parenting that Barron is a playful kid: he loves to draw (he even drew on the walls for a time), and he's a big fan of managing his own small-scale Lego construction projects.
Barron also finds time to play sports. Donald described him as "a very natural athlete," reported People. Melania posted a photo of Barron in April 2013 showing him at what appears to be a baseball game and captioned it, "My #25."
Barron also appears to play basketball; Melania posted this Facebook photo of Barron in uniform in December 2014.
It seems that Barron has an enduring appreciation for golf. Whether he's attending a tournament with his parents or teeing off himself, he's photographed fairly often on the links. In her caption for this photo, Melania referred to Barron as her "Champion."
Though Donald is often on the road, he and Barron seem to meet often on the golf course. Melania told People that those moments of father-son bonding are critically important:
Barron loves to be one-on-one with Dad because normally he's almost always all the time with me. So I give them space when it's Daddy and Barron time. They go alone for dinner, one-on-one. They play golf together. He looks forward to that.
Since Barron was a baby, he's lived a life quite different from that of most little boys. But if Trump wins the White House, he'll spend the next four years as First Kid: definitely a charmed way to go through middle school.