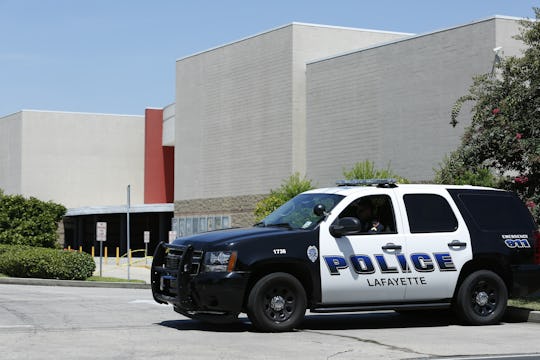 YURI GRIPAS/AFP/Getty Images
Photos Of Baton Rouge Protests After Alton Sterling's Death Show A Community That Is Done
When 37-year-old Louisiana man Alton Sterling was shot and killed by police in front of a convenience store in Baton Rouge, Louisiana early Tuesday, his friends and loved ones were understandably outraged and heartbroken. But as news of his death spread, along with footage of the shooting that had been captured on a cell phone by witnesses, the number of people angry about what many are calling yet another example of police brutality against black men grew, and hundreds took to the streets in protest. While a lot of attention has of course been placed on the (very graphic) video of the shooting, the photos of the Baton Rouge protests after Alton Sterling's death are important, and need to be seen.
According to The Washington Post, Alton Sterling is the 122nd black American to be shot and killed by police so far in 2016. Sterling's family and supporters are now calling for an inquiry into his death, in hopes of getting some real answers. But given the number of high-profile cases just like his that didn't result in a conviction, it wouldn't exactly be surprising if, at the end of the day, they still don't end up feeling like justice has been served.
According to The Advocate, hundreds of protesters came together Tuesday evening in front of the Triple S Food Mart, where Sterling had been shot by police early that day. The convenience store was where Sterling often went to try and sell CDs and DVDs, and the owner, Abdullah Muflahi, who had known Sterling for six years and who had given him permission to sell his items there, said he hadn't witnessed Sterling ever causing trouble or getting into fights, according to CNN.
The crowd of protesters grew to include not just friends of Sterling, but also politicians and black community leaders, according to The Advocate. They chanted, "Black lives matter!" and "Hands up, don't shoot!"
A number of Sterling's family members spoke to reporters following his death, according to TIME, including Quinyetta McMillon, the mother of Sterling's 15-year-old son, Cameron. She said,
I, for one, will not rest or not allow him to be swept in the dirt...As this video has been shared across the world, you will see with your own eyes how he was handled unjustly and killed without regard for the lives that he helped raise. As a mother, I have now been forced to raise a son who is going to remember what happened to his father that I can't take away from him.
Baton Rouge NAACP president Michael McClanahan also spoke to reporters, and called for Baton Rouge Police Chief Carl Dabadie Jr. to resign, saying, "He must step down. We cannot have anybody who allows this type of action to take place."
But according to TIME, Dabadie later responded by saying he would not resign, and that those calling for him to do so were "acting off emotion." He added, "we have done a lot of good in this community [and are] working diligently to bring the truth out."