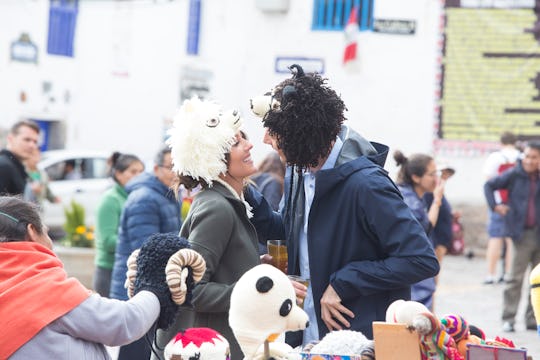 Paul Hebert/ABC
These Photos Of Becca's Engagement Ring Will Make 'Bachelor' Fans Green With Envy
There are few things that are certain in Bachelor Nation: there will be tears, Arie will "love that" (whatever "that" is), and he'll propose with a Neil Lane ring. So as soon as he got down on one knee, all eyes immediately shifted to that huge rock on Becca's finger. Suffice to say, photos of Becca's engagement ring on The Bachelor will make viewers incredibly jealous. But that's to be expected pretty much every season on this show.
The last Bachelor proposal wasn't the last Bachelor, Nick Viall. It wasn't even Bryan Abasolo to the last Bachelorette Rachel Lindsay. No, the last proposal was a lot sooner than it has been in the past: Benoit prosed to Clare on The Bachelor Winter Games. So, that's the ring Bachelor Nation has to compare to Becca's bling and they're honestly both gorgeous.
Just because Clare and Benoit didn't have the traditional Bachelor treatment, they were still treated to a Neil Lane ring. "I had something in mind and Neil Lane didn't have that one," Benoit told E! News. "So he had to make a custom one on the spot because it was kind of a last minute decision for me even though I was thinking about it." Neil Lane making you a custom engagement ring... casual.
Clare and Benoit ended up with a ring handmade in platinum, centrally set with an oval cut diamond. It's surrounded by 84 full cut diamonds for a total diamond weight of 2.3 carats. Wow.
On Monday night, Becca and Arie had their proposal and her ring was arguably just as impressive.
The ring that Arie gave Becca looks very similar to this diamond engagement ring on Kay Jeweler's site, who lists the price as $14,949. It's described as a 1 1/2-carat oval-shaped diamond center haloed by round diamonds. The band is polished 14K white gold band has more round diamonds. The total weight of the ring to 2 1/8 carats.
Whew. That ring is truly beautiful, and it should be for an almost $15,000 price tag. Does Arie pay for the ring himself? No, but it's unknown whether ABC foots the bill or if Neil Lane gifts the rings to the contestants. That being said, it's not necessarily a gift if the couple breaks up. Apparently, contestants' contracts state that if they break up within two years, ABC gets the ring back. Considering that Arie has a change of heart, Becca's ring will probably not be on her finger for long.
A $15,000 ring is certainly extravagant, but it's not even close to the most expensive Bachelor engagement rings of all time. That prize went to Ben Higgins, who proposed to Lauren Bushnell with a $100,000 ring. Unfortunately, the two of them broke up as well, and Lauren had to give up the engagement ring. Neil Lane didn't get it back, however. In an interview with People he said, "I make the rings with love and always hope for the best...But once I present the rings, I don't know what happens to them afterwards if the couple breakup. I think the ring goes to ring heaven."
Well then...hopefully "ring heaven" means ABC, because I'd hate to think of those rings going to waste. While it doesn't work out oftentimes in Bachelor Nation, rest assured that Neil Lane will continue to supply the rings to the contestants. Thankfully, there have been success stories where all is well and the Neil Lane remains on the fingers of Bachelor alums; I'm sure like all of us, Neil Lane wants that to be the case as opposed to them going to "ring heaven." What will happen to Becca's ring, we just have to wait and see.
Check out Romper's new video series, Romper's Doula Diaries:
Watch full episodes of Romper's Doula Diaries on Facebook Watch.