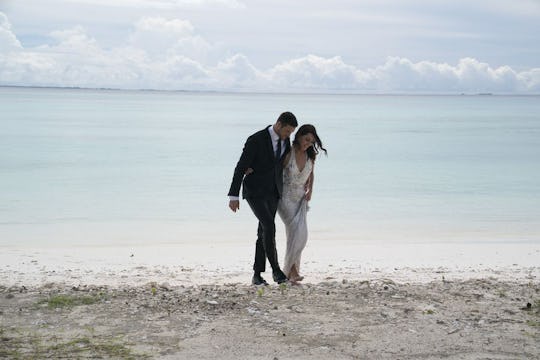 Paul Hebert/ABC
Photos Of Becca's Engagement Ring From 'The Bachelorette' Are Stunning
Becca Kufrin has finally found her true love. After the debacle with Arie Luyendyk Jr. during the last season of The Bachelor, fans were happy to see Becca finally get her happily ever after. Well, some were anyway. Others weren't too happy she chose Garrett Yrigoyen, for a number of reasons. Regardless, along with winning her man, Becca also got an engagement ring. Photos of Becca's engagement ring show just how gorgeous — and expensive — it is.
As is usually the case for the Bachelor franchise, Neil Lane was brought on the show to help Garrett and Blake Horstmann pick out their engagement rings for Becca. Because of the awful split between Becca and Arie, where Arie first chose her but then reneged on the engagement to be with Lauren Burnham, the runner up, Neil wanted Becca to have an extra special ring.
"I wanted to make a ring that was totally different than anything I had done for the show before," Neil told People magazine. "I wanted to create something very special for Becca, especially considering everything that happened with Arie."
And so he did. Previously, the rings Lane designed for the franchise over the years were made in platinum, however, the ring Garrett chose for Becca, is 18-carat gold, and it has nearly four carats of diamonds.
The price of the ring hasn't been revealed but just based on looks and the number of carats, it's most likely the ring is at least $100,000 and it's very possible this is the most expensive ring in the Bachelor franchise so far, though the show hasn't confirmed if that's true. Regardless of the price point, the ring is pretty and seems to be a perfect fit for Becca, just like Garrett. That said, many people have negative opinions about the ring and Garrett.
Early on in the season, former Bachelor contestant Ashley Spivey posted a number of tweets claiming Garrett had liked several Instagram posts that made offensive jokes about boys who wear makeup, Caitlyn Jenner's transition, and the Parkland shooting survivors. Garrett eventually deleted that Instagram account and made a new one, issuing a statement.
"I am sorry to those who I offended, and I also take full responsibility for my 'likes' on Instagram that were hurtful and offensive," he wrote in the statement. "I have learned an extremely valuable lesson and am taking steps to grow, become more educated, and be a better version of myself. I am not perfect, and I will never be anywhere close, but now I will always be more informed and aware of what I am liking and supporting, not just on Instagram, but in life."
Becca also weighed in on the controversy in a interview with ON with Mario Lopez. "I met 28 guys, who our ideals weren't always the same," she said. "They have different interests. They have different hobbies, different things that they believe, and that's what's been so great about getting to know these guys, because everyone has different viewpoints and that's what I loved about this journey...I just want everyone to watch it back and to get to know these guys and to get to know me for who we really are and not social media, because that's just a small glimpse into a person and it's not always reflective of who they are."
The fact that Becca was defending Garrett led many fans to believe he was the man she chose to marry, and they were obviously right. Some fans have been able to move past Garrett's controversy and accept his apology, but others aren't totally convinced. Regardless, Becca has made her choice and the only thing that matters is that she's happy with it.