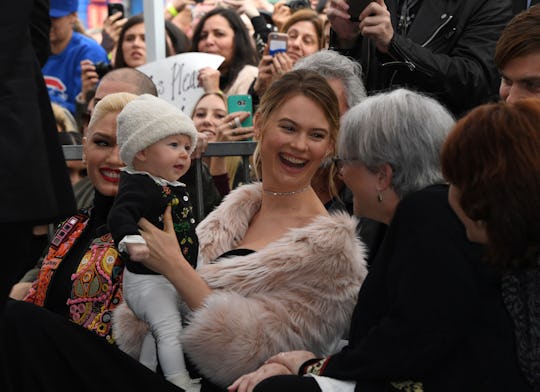 MARK RALSTON/AFP/Getty Images
Photos Of Behati Prinsloo & Her Daughter Will Make You Melt
On Sept. 13, Behati Prinsloo announced her second pregnancy with husband Adam Levine. Fans were pretty thrilled by the news, which was to be expected given the fact that Prinsloo and Levine's first child, Dusty Rose, is one of the most adorable babies around. Of course, Dusty's cuteness is intensified whenever she's in the presence of Prinsloo, and photos of Behati Prinsloo and her daughter will definitely make you melt.
If you line up all of the photos of Prinsloo and Dusty in a row, you'll quickly notice that Prinsloo loves to hold and snuggle Dusty close to her chest. Close contact is the ideal for any new parent, especially if you're a parent who's simply overcome with post-birth endorphins and intense feelings of love. Obviously, it goes without saying that Prinsloo found herself crazy in love with Dusty as soon as she was born.
When Prinsloo was asked to describe an aspect of motherhood that surprised her, she revealed, according to People:
I think the fact that you could love a person more than you ever thought. I love Adam, and when you get married and you fall in love with someone, you think that there's no greater love than that love. And then you have a baby, and it's just next-level love. Honestly, I think what surprised me most is how intense that love is, and also how hard, at times, it is.
Yep, this is a totally relatable sentiment. New parents are over-the-moon in love with their kids, and they went to be as close to them as possible... at all times.
Although Prinsloo doesn't share a lot of photos of Dusty to social media (and no, Dusty doesn't have a verified Instagram account yet), the photos that Prinsloo does share are sweetly personal, and each one highlights the intense love Prinsloo has for little Dusty.
One of the first photos Prinsloo shared of Dusty was taken on Christmas in 2016. In the photo, Prinsloo holds a festive Dusty close to her chest:
Prinsloo captioned the shot, according to Instagram:
Best Christmas 🎄⛄️🍼💋.
The Christmas photo set a trend for future photos of Prinsloo and Dusty no matter where they are or who they're with, Prinsloo and Dusty are always attached at the hip. In the photos of Prinsloo, Levine, and Dusty posing together as a family, Prinsloo seems to always get first dibs on holding Dusty. By the looks of it, it seems like Levine is totally cool to let Prinsloo and Dusty's bond flourish.
The sweet evidence:
Personal pictures aside, fans were treated to more heart-melting shots of Prinsloo and Dusty when they appeared together at Levine's Hollywood Walk of Fame ceremony in February. As per usual, Dusty was in close proximity to Prinsloo the entire time.
Too cute.
A few months after the ceremony, Prinsloo had nothing but gushing things to say about life with her number one BFF. Prinsloo said, according to E! Online:
So good. She's heaven... and she's sassy!
Given Prinsloo and Dusty's closeness, it will be interesting to see how things will go down when baby number two makes his or her entrance into the world. For one, it's clear Dusty and Prinsloo don't like to leave one another's side very often, and two, it might be difficult for Dusty to share her one-on-one time with Prinsloo. Although it might be complicated at first (transitioning from your first kid to your second one can be tough), it's likely Prinsloo will ultimately find a great way to delegate her attention between two kids. Prinsloo has this whole motherhood thing on lock, and it's clear that she has tons and tons of love to give.
Watch Romper's new video series, Romper's DoulaDiaries:
Check out the entire Romper's Doula Diaries series and other videos on Facebook and the Bustle app across Apple TV, Roku, and Amazon Fire TV.