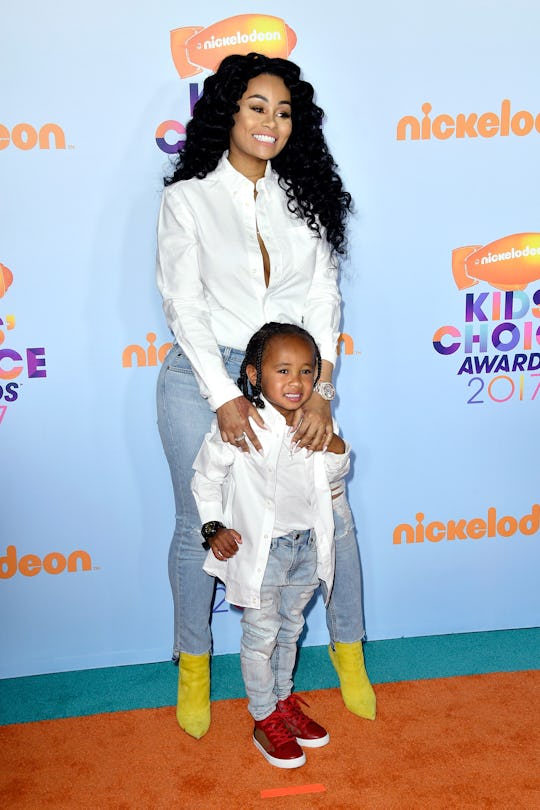 Frazer Harrison/Getty Images Entertainment/Getty Images
Blac Chyna & Her Son Were Adorable At The KCAs
As a kid, there was arguably nothing better than watching Nickelodeon's Kids' Choice Awards. The adults had their Grammy Awards and Academy Awards — but when it came to the younger demographic, watching a favorite celebrity get slime dumped on their head was the often the high-point of the year. These days, those same grown ups who enjoyed watching celebs get slimed in their youth have grown up and they're keeping the annual tradition going. Celebrities and their families came out in full force to attend the 2017 Kids' Choice Awards on Saturday evening, including Blac Chyna — and the many photos of Blac Chyna and her son at the award show red carpet prove that even the most glam and publicized among us can't pass up a good opportunity to be a kid.
Because the event is, as its name implies, for kids, it was only natural that Chyna took her 4-year-old son, King Cairo, as her date to the awards show — especially after reportedly splitting from her fiancé, Robert Kardashian in February. The mother and son duo looked glowing on the orange (not red) carpet on Saturday night too: Both mother and son matched their outfits perfectly, wearing white button down shirts and matching distressed jeans, but opting for different brightly colored shoes. Matching outfits aside, King was the spitting image of his mom — and their photos on the red carpet were absolutely precious.
Notably absent was Chyna's 3-month-old daughter, Dream Kardashian — likely because babies probably don't make great award show dates. It was a relatively rare public appearance together for Chyna and her son and was especially notable since Chyna and Kardashian reportedly split just recently.
But in spite of the break-up rumors, fans of their reality show Rob & Chyna shouldn't worry just yet. According to E!, both Kardashian and Chyna are reportedly "working on staying together" and focusing on their young daughter. And just because they're currently not together doesn't mean that their show is going anywhere; Camera crews are still busy filming all of the Kardashian family — including Rob and Chyna's relationship, according to E!.
Whatever the case and whether or not there was more going on behind the scenes in Chyna's life, you couldn't tell on Saturday. Instead, Chyna and her son were all smiles, and the two took to Chyna's Snapchat as well, once inside the Kids' Choice Awards, to play around with the app's filters while King snacked on an apple — because even celebrity kids need snacks to keep them occupied sometimes.
In spite of her recent rumored breakup, Blac Chyna and her son appeared to be having the time of their lives on Saturday. (No word yet on whether they got to see that iconic green slime up close.)