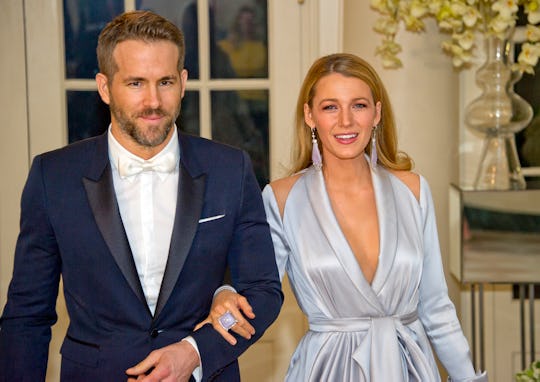 Pool/Getty Images News/Getty Images
Photos Of Blake & Ryan's Children Will Melt You
Fans of Blake Lively and Ryan Reynolds met the celebrity couple's newborn second daughter this month, before they learned her name. The family made its first appearance all together since the new baby's October birth last week, at a Los Angeles ceremony during which the Deadpool actor received his star on the Hollywood Walk of Fame. But even though we didn't know almost James' little sister was named Ines at the time, the gathering was a golden opportunity for the mom and dad to show off their growing family — and for the rest of the world to get the full picture of how adorable they really are. Because from that appearance, naturally, emerged a treasure trove of photos of Blake Lively and Ryan Reynolds' children.
Both Reynolds and Lively are generally closed-lipped about their daughters, choosing not to make 2-year-old James' name public until nearly two months after she was born, but the 40-year-old father of two said that the red carpet event was one he thought the whole family should enjoy. "This is one of the rare occasions when we thought we got to bring the whole clan," he told Extra. "I'd regret it in 20 years if I didn't."
And, lucky for us, he and Lively decided to do just that.
As Lively and the girls watched the ceremony from the audience, Reynolds presented a touching ode to Lively, according to People:
You are the best thing, the best thing that has ever happened to me — second only to this star … You make everything better, absolutely everything in my life better. You've made me the father of my dreams when I thought I only had fun uncle potential.
James even stole the show afterwards by taking off with the mic from her dad's hands:
"It's not the first time she's snatched a mic out of someone's hands," Reynolds joked in response, in an interview with Extra. "When she's 20, she can happily do whatever she wants. Thirty — I'm gonna up that to 30."
But although James infused some serious cuteness into the situation, Ines' red carpet debut doubled as her first exposure to the world of showbiz and the very first time she's been photographed in public. Us Weekly has since reported the baby's name, but even before fans knew it, her parents graced everyone with some A-plus shots of her:
If James and Ines follow in their parents' acting footsteps, perhaps they'll be making some red carpet appearances on their own someday. For now, congrats to the family.