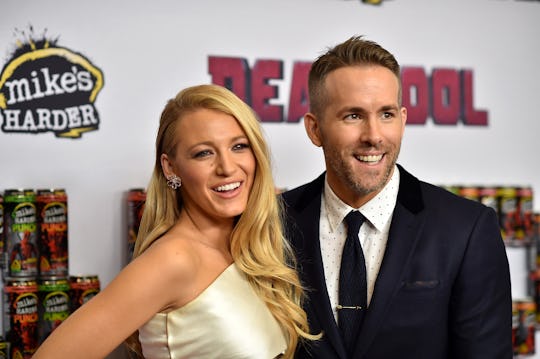 Dimitrios Kambouris/Getty Images Entertainment/Getty Images
Photos Of Blake Lively & Ryan Reynolds' Kid Are Hard To Find, & That's Not An Accident
Celeb parents all have different style when it comes to their kids' privacy. Some parents are happy to share photos of their little ones in magazine photo shoots or show off personal snaps on social media, while others work really hard to make sure as few details as possible about their children's lives become public knowledge. They may have just announced their second pregnancy, but you won't find photos of Blake Lively and Ryan Reynolds' kid floating around the Internet, and that's because they don't want you to. In fact, according to Us Weekly, it took the couple a year to even announce their daughter's birthdate! Little James Reynolds is 17 months old now, but there are still only a few photos of her to be seen — and other than some very unauthorized paparazzi shots, none of them actually feature her face (even though it's pretty safe to say she's probably totally adorable).
Why have Lively and Reynolds opted to keep details about their daughter hush hush? According to Glamour, it mostly just comes down to not wanting to embarrass her. On keeping James' name a secret for months after her birth, Reynolds told the mag,
It's out there. It's James. Everyone knows, and I told everyone who would listen before it was out there that I didn't want to be the first guy screaming it out to the media because, as we know, little girls turn into teenage girls and little teenage girls sometimes scan through the archives and go, 'Why did you do that?'
But that's not to say Reynolds is totally opposed to sharing glimpses of his life as a dad with the world. He's opened up about some of his fatherhood experiences in interviews and on his own social media account and has shared a couple super sweet photos too, like this Instagram photo from a year ago:
One thing Reynolds isn't shy about talking about? How much he really loves being a dad. Not long after James' birth, Reynolds raved to David Letterman about his new daughter and his wife in the most hilariously loving of ways. According to People, Reynolds told the former Late Show host,
I'm not one for vomiting declarations of sentiment out across the airways, but when we had that baby, I fell more in love with my wife than I'd ever been in my entire life. I used to say to her, 'I would take a bullet for you, I could never love anything as much as I love you.' And then the second I looked in that baby's eyes, I knew in that exact moment if we were ever under attack, I would use my wife as a human shield to protect that baby … you can quote me.
And if that wasn't already adorable, Reynolds also admired Lively's decision to exclusively breastfeed their daughter despite how much work is involved:
I'm just a diaper changing facility hooked up to a life support system, but my wife, she's breakfast, lunch and dinner. She's a human Denny's all day long…it never ends for her. She's the most beautiful Denny's you've ever seen though, I guarantee it.
But the love and admiration clearly goes both ways: on Father's Day last year, Lively took to her own Instagram account to share a photo of her husband carrying James in a baby carrier, and it was the cutest:
Happy Fathers Day!!! ... @vancityreynolds Since the day our baby was born, I've felt so strongly in my heart that you were most likely the father. 😳😁😋😊😉😉😍😎😍#ILoveYouSoMuchItsSilly
It's pretty safe to assume at this point that not only should we probably not be expecting any publicly-shared family portraits anytime soon, but details on their baby-to-be likely won't be plentiful either. But even without the social media oversharing, it's still clear that this is one super devoted family — and whatever we get to learn about their private life is just icing on the cake.