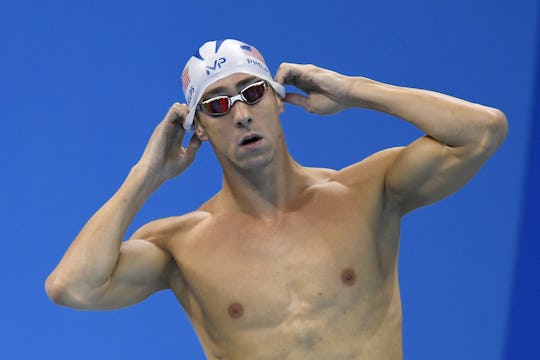 CHRISTOPHE SIMON/AFP/Getty Images
Photos Of Boomer With Michael Phelps & Nicole Johnson Are Worth 100 Gold Medals
Superhuman powerhouse swimmer Michael Phelps won his first gold medal of the 2016 Rio de Janeiro Olympics Sunday night, and the 19th Olympic gold of his career. The newest addition to his already unbelievable collection is especially notable not just because its his 23rd Olympic medal, but also because its the first medal celebration he's gotten to share with his 3-month-old son, Boomer. He's competed in the Olympics five times in a row, so Phelps has a dedicated and fervent fan base. The most excited and the most adorable of his fans is his young family, and photos of Boomer with Michael Phelps and Nicole Johnson, his fiancée, are seriously worth all the gold medals.
Phelps made his Olympic debut in Sydney in 2000, and the 31-year-old is now the most decorated Olympian of all time. He probably doesn't exactly need a good luck charm as he competes in Rio after coming out of retirement in 2014, but he certainly has one. Boomer pretty much stole the show Sunday evening as he chilled with Johnson in the stands as his dad won gold in the 4-by-200-meter relay. Seriously, he was all snuggled up in the cutest red, white, and blue baby carrier with the initials "MP" stitched on.
Phelps may be a bit addicted to winning (he just can't stop doing it), but I'd imagine the spotlight would get old after a while. Luckily, both of Boomer's parents, and even Boomer himself, have active Instagram accounts that chronicle the day-to-day of the little future Olympian, and what it's like to have Michael Phelps as a dad to take over some of the burden of fame and international intrigue.
For example, you get to FaceTime right after he wins yet another gold:
And one day he'll teach you how to swim as you prepare to take over his throne:
In the meantime, the whole family can get in on swim practice:
And when the Phelps family isn't in the pool, they just can't stay away from water. "We were in so pumped to see the animals!!" Michael Phelps captioned this Instagram post of the three of them at the Georgia Aquarium in Atlanta:
But so, so many moments are special for them, just like so many young families:
Like just taking a morning walk together. "First morning walk!!!" the caption to a to a photo posted to Boomer's of the family doing just that reads. Maybe soon he'll be writing "First Olympic gold!!!" instead?
No wonder, despite all the golds he's won, Michael Phelps wrote "Best feeling I have ever felt in my life!!!" the day his son was born May 5:
Phelps has been wow-ing Americans through many, many Olympic Games, and and now he's doing it again in Rio, both with his athletic finesse and his tiny budding swimming prodigy of a son.