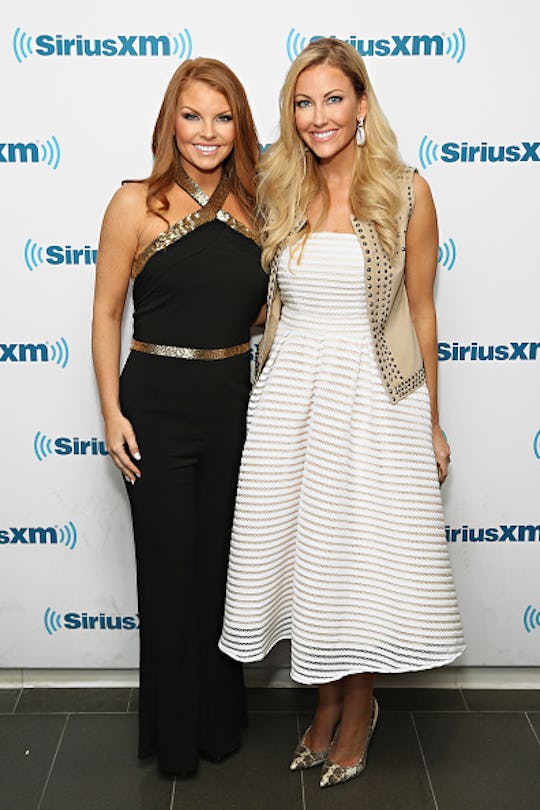 Cindy Ord/Getty
Photos Of Brandi Redmond & Stephanie Hollman Prove They're BFFs On & Off Screen
The Real Housewife BFFs are probably one of my favorite things about the show. Ramona Singer and Sonja Morgan of the Real Housewives of New York are probably my favorite, but I also always enjoy Lisa Vanderpump and Kyle Richards antics on the Real Housewives of Beverly Hills. The latest addition to the canon of ladies who spend an abnormally large amount of time together are ride-or-die Dallas gals Brandi Redmond and Stephanie Hollman of Real Housewives of Dallas.
We were introduced to the dynamic duo as a unit in the first episode, in which the two giggled maniacally about bathroom humor, Stephanie's ability to fart on command, and Brandi's joy in dancing in the fart. True friends, if you ask me. They have children around the same age and from the looks of things, the kids get together a lot. And, of course, they both love "Jesus Juice," or, for the layman, wine. Even when it looks like their friendship could be shaken — like when Stephanie wrote an apology email to LeeAnne following the Mad Hatter debacle behind Brandi's back — Brandi admitted she was hurt, but still defended Stephanie with understanding and compassion. "Stephanie is a people pleaser and will go out of her way to avoid confrontation." In her next blog she wrote, "Stephanie is a woman of few words but when she speaks she nails it. I love Stephanie and her voice."
In pictures of Brandi and Stephanie on Instagram, it's immediately clear how close their bond is.
They Spend Holidays Together
"All I want for Christmas is Stephanie," Brandi captioned this sweet pic.
They Go On Joint Vacations
The ladies hopefully enjoyed some Jesus Juice over the past year. This snap was taken on vacation in the Dominican Republic.
They Support Each Other
No matter what, these two always seem to have the other's back.
They Watch The Show Together
Sometimes the show can bring out the uglier side of people, but these two are in it together.
They Party Together
Back home in Dallas, as well as on vacation, these two are inseparable. We caught a glimpse of their partying ways at a perhaps ill-advised trip to the strip club in last Monday's episode. But even if there aren't cameras around, these two seem to be together all the time.