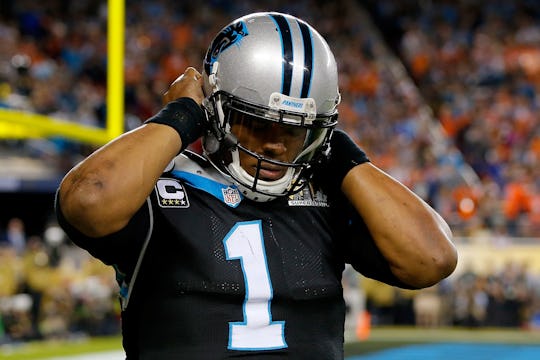 Kevin C. Cox/Getty Images
Photos Of Cam Newton & Kia Proctor Prove They're Not Attached At The Hip
Some celebrity couples like to flaunt their love for the world to see, while others keep their relationship out of the public eye. One couple that falls into the latter category is Carolina Panthers quarterback Cam Newton and his girlfriend of several years, Kia Proctor, who is also the mother of their son, Chosen. Though the couple has been very open about their love for one another and have shared their relationship stories with the world, photos of Cam Newton and Kia Proctor are few and far between.
It seems the couple chooses to keep personal snaps of themselves out of the public eye. In fact, aside from a few chosen social media shout outs, the two tend to keep any info about their relationship on the down low. And you know what? That's totally OK.
As a society, we feel we're entitled to a behind-the-scenes look into celebrities' lives. You could argue that celebrities active on social media encourage that sense of entitlement. But not every celebrity chronicles their lives on Instagram, and that is their right. Sure, if a celeb wants to share a selfie or tell us their life story, we don't have to close our eyes or ears. But if a celebrity and their significant other (particularly one who isn't a public figure) want to keep their lives private, then that's their choice, and we have to accept it.
Plus, there is something sort of nice about a couple who doesn't feel the need to showcase their relationship on social media. It proves that they don't need each other to feel whole; that they can have lives and identities outsides of the relationship. And if you look at Newton's Twitter feed or Proctor's Instagram account, you'll see they have pretty spectacular lives.
Proctor Hits The Track With Friends
Newton Plays Around
Proctor Shows Her Style
Newton Gives Back To Boys And Girls
Proctor Supports Her Bae
Go Proctor and Newton for continuing to cultivate themselves as individuals. And, since they share couple photos so seldom, for choosing to share the one above, because it's pretty much the best.