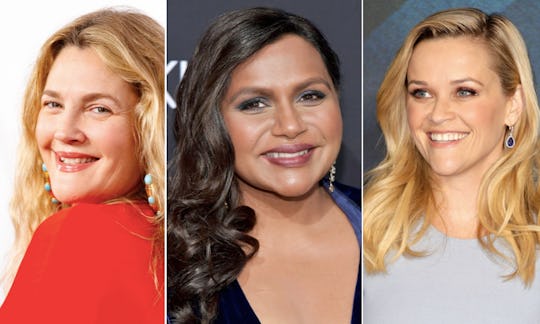 Neilson Barnard/Getty Images Entertainment/Getty Images Christopher Polk/Getty Images Entertainment/Getty Images/ John Phillips/Getty Images Entertainment/Getty Images
Celeb Moms Came Out In Full Force To Vote In The 2018 Midterm Elections — PHOTOS
Election Day is an important occasion for any voter, but it's especially meaningful for parents who want to impart the importance of democracy in action on their young children. And if you want to see this in action, look no further than these energizing photos of celebrity moms voting in the 2018 midterm elections.
Early Tuesday morning, polling locations across the United States opened their doors to voters. And prior to the exciting and nerve-wracking moment, there was a lot of chatter on social media about the voting process. From instructions about how to register to finding polling locations, there has been no shortage of Election Day talk throughout these past few months.
Leading the charge in this movement? You can give a big chunk of credit to celebrity moms, who've taken to their Instagram or Twitter accounts numerous times to urge people to take part in the democratic process.
Of course, many fans want to see these outspoken celebs put their words into action. And on that note, here all of the inspiring snaps of celebrity mamas voting in the 2018 midterm elections.
Mindy Kaling Is Thankful For The 14th Amendment
New mom Mindy Kaling paid homage to the 14 amendment on Tuesday, writing on Twitter: "Thank you 14th Amendment for letting me vote today!"
Alyssa Milano's Kids Accompanied Her To The Polls
What's cuter than bringing your kids to the polls? Alyssa Milano's son, Milo, upped the adorable factor with a t-shirt featuring an image of her face. "Mom for president," Milano captioned the sweet snap.
Debra Messing Voted By Mail
Outspoken celeb Debra Messing voted by mail, the perfect option for someone who can't get to the polls on election day.
"The return receipt from my Absentee Ballot. #IVoted #ny 🇺🇸🇺🇸🇺🇸🇺🇸🇺🇸🇺🇸🇺🇸🇺🇸🇺🇸🇺🇸," Messing wrote on Instagram.
Ali Fedotowsky Fit Voting Into Her Morning Routine
Mom-of-two Ali Fedotowsky coordinated her hectic morning routine to include voting. "Today is a very important day. It's voting day!" Fedotowsky wrote on Instagram Stories. "So Molly and I are leaving for school early so we have time to drop off my vote by mail ballot in person. I didn't know where my polling station was. But I found one!"
Gwyneth Paltrow Voted Early
Gwyneth Paltrow, the mom of two teens, voted early this year. "It's a right not to be taken for granted so I did it a day early and I'm gonna rock this sticker all day. #votevotevote," she said.
Drew Barrymore Put A Creative Spin On Her Voting Sticker
Instead of writing a message to fans, Drew Barrymore simply took a picture of herself with a voting sticker covering her mouth. Simple, yet perfect.
Reese Witherspoon Is A Proud Voter
"I Voted! 🇺🇸 ✅ How about you?!" Reese Witherspoon asked her followers on Tuesday.
Hilaria Baldwin Shared The Sweetest Selfie
Mom-of-four Hilaria Baldwin included her eldest daughter, Carmen, in the voting festivities.
"We voted! Taking care of our future 💙," she penned.
Blake Lively's Family Affair
Blake Lively added a little humor to her voting post, writing: "Happy Birthday to 2018's Sexiest Voter Alive @vancityreynolds#justvoted 📬🎉#absenteeballot party!"
Olivia Wilde Is Feeling Awesome
Olivia Wilde summed up election day best, saying: "Go be awesome and VOTE YOUR FRIGGIN FACE OFF!"
Melissa McCarthy Says, "Let Your Voice Be Heard"
"Vote!!! Let your voice be heard!!! 🇺🇸💕" Melissa McCarthy urged voters.
Jenny Mollen Braved NYC Weather To Vote
"Officially the most obnoxious people in line #vote," Jenny Mollen joked.
Busy Philipps Ran Into This Parks & Recreation Star
Busy Philipps ran into Adam Scott when she went to vote. She said on Instagram:
You never know WHO you're gonna run into at your polling place! I ran into tv and film's @mradamscott! Did YOU vote yet????? Go VOTE! RIGHT NOW! TODAY IS THE DAY! TOMORROW IS TOO LATE! I LOVE YOU BYEEEE! Also! There was (what I thought) a big line but I only stood in it for about 25 minutes and then it took me 10 to vote! Easy!
Amy Schumer Went To The Polls Incognito
You got to love this outfit, right?
Kylie Jenner Shared A Snap Of Her Voting Sticker
Enough said.
You Can't Take Pink's Voice
Pink said on Tuesday:
BECAUSE NO ONE WILL EVER TAKE MY VOICE. I VOTED. Because they work for us. I VOTED. BECAUSE I HONOR THOSE THAT HAVE FOUGHT AND DIED FOR THESE RIGHTS. I voted. BECAUSE IN ORDER TO HAVE AN OPINION YOU MUST PARTICIPATE. I voted. GO BE LOUD. GO VOTE
See you at the polls, mamas!