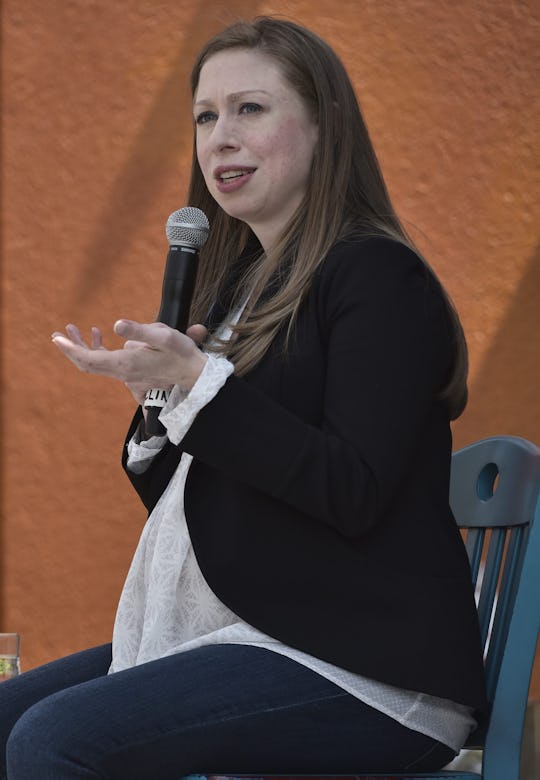 MANDEL NGAN/AFP/Getty Images
Photos Of Chelsea Clinton's Son Aidan Aren't Here Yet & That's Probably A Good Thing
Chelsea Clinton announced the birth of her son Aidan on Saturday morning and everyone is buzzing on social media about the good news. But don't expect photos of Chelsea Clinton's son, Aidan, anytime soon. The Clinton's are careful with their newborn news, if Charlotte's birth, Clinton's first child, is any example. Clinton announced the birth of her daughter, Charlotte, in September of 2014, but it took a few days before the family shared any images. Since then, there are only very rare images of Charlotte, although they've picked up more recently with her grandmother's, presumptive Democratic nominee for president Hillary Clinton, presidential bid. Families also make for good optics.
But really — just the announcement is enough. In fact, Chelsea Clinton tweeted herself around noon on Saturday morning that she and husband, Marc Mezvinsky, had welcomed their son Aidan. Clinton's campaign had not yet made a comment at press time. To be honest, a tweet just after giving birth from Chelsea makes her a pretty dedicated spokesperson for the family — shouldn't she be, uh, resting? Although it'd be nice to get a look at the little guy, the focus for the family should be on celebrating themselves in the coming days. They're busy enough trying to get grandma elected.
It's probably better, too, just to protect the candidate and her daughter. People on social media can be cruel and in the middle of a heated campaign with presumptive Republican nominee Donald Trump, exposing a newborn on social media to whatever Trump supporters might say is a little much. Sticks and stones and all that, but in an emotional — albeit celebratory time — who needs that kind of stuff? Because there probably will be some negative feedback, because this is 2016 and we all live on the Internet and people can be jerks there.
Even when Chelsea announced her pregnancy back in December, people made jokes about the timing and how Hillary Clinton would "use" her daughter's pregnancy and her own grandmother status for her own good. Even major news outlets like USA Today wrote about how "it's unclear how Chelsea's pregnancy will affect Hillary Clinton, who is considering a race for president in 2016," back when she was pregnant with Charlotte. Even Shonda Rhimes, the creator of Scandal and Grey's Anatomy, tweeted about how the coverage of Chelsea's pregnancies were a little sexist, because, well, they are. No one wondered how Ivanka Trump's pregnancy would affect The Donald.
The world for families like the Clinton's can be tough to navigate. But really, a little Instagram action of Aidan could be nice.