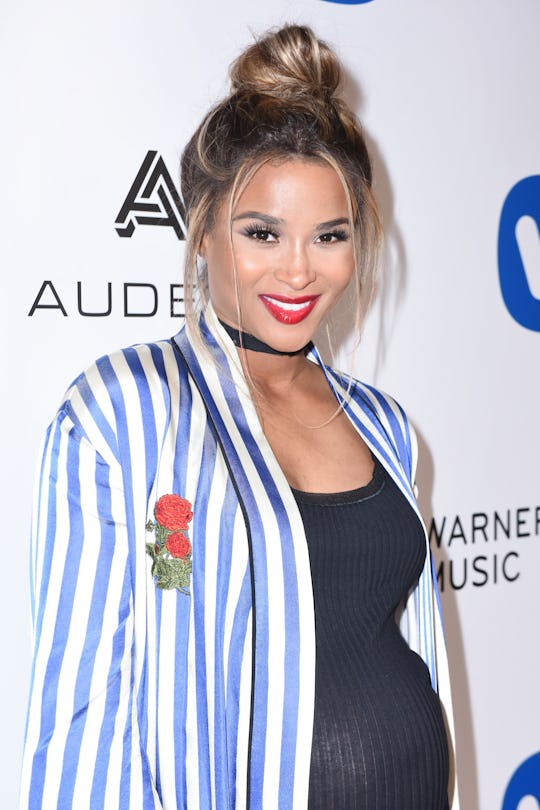 Vivien Killilea/Getty Images Entertainment/Getty Images
Photos Of Ciara & Her Son Show Are Adorable
R&B singer Ciara is due to deliver her second child any day now, her first with Seattle Seahawks football player Russell Wilson. But she's already a mom to her first son, Future Zahir, who she shares custody of with her ex-fiancé, rapper Future. Will little Future Zahir end up with a little brother or sister? Only time will tell. If they're anything like their older sibling, they're bound to be super cute, if the following photos of Ciara and her son are anything to go by.
On Friday, Ciara shared a photo of herself from the Warner Music Group GRAMMY party at Milk Studios in Hollywood on Instagram, and captioned the photo, "Blue is one of my favorite colors.." Could this be a hint that another boy is on the way for the songstress? Or does she just really like the color blue?!
Apparently, the parents already have a name picked out for the new addition, so they know the sex of the baby, even if they don't want to share with the rest of the world. And it sounds like her son can't wait to be a big brother. According to ET, she said:
He rubs my belly and he says, 'Hi baby. I love you, baby,' ... and then he puts my shirt down and says, 'Bye, bye baby.' So, that's his own thing...He sees a baby walking, smaller than him and walking -- it doesn't matter, it's a baby. So, he goes, 'baby' and he looks at me and he goes, 'Mama, baby' --and he tries to pull my sweatshirt up.
Adorable, right? Speaking of adorable, Future is quite the little cutie, and photos the singer has shared, as well as other appearances by the mom and little guy, are very sweet indeed.
Here's one she shared on her Instagram a little over a month ago, of her and Future cheesin' out next to each other.
She captioned the image simply, using only a heart emoji.
And here's a shot of the two of them from the Nickelodeon Kids' Choice Sports Awards back in July of 2016. That kid has a serious pout on him, doesn't he?
He's looking a lot happier in this video she posted to Instagram, captioned, "Sweet Message From My Boys ❤ @DangerRussWilson. #WomensEquality," in support of the Women's March back in January.
And this photo she shared to her Twitter account back in May 2015 is incredibly sweet.
"#FBF May 5, 2015 at a park in NY with My Lil Man. Pure Joy," the singer captioned the image.
And this photo of the mother and son duo Ciara shared to Instagram back in October shows that smile of his is the cutest thing.
"All Smiles," the caption read, followed by a bunch of emojis and then finished off with, "Today Was A Great Day!"
Seems like for this singer, any day can be a great day when you've got a little boy that adorable to show off.