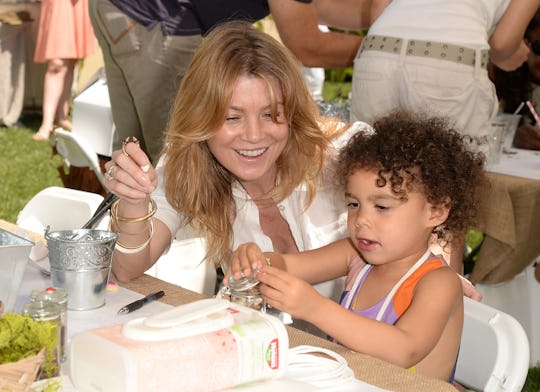 Jason Merritt/Getty Images Entertainment/Getty Images
Photos Of Ellen Pompeo & Her Kids Are Adorable
Grey's Anatomy actress Ellen Pompeo, who plays Meredith on the hit show, kept her most recent pregnancy a secret. Pompeo and her husband Chris Ivery, who have been married since 2007, have three kids: but compared to other celebrities' children, they've been decidedly kept out of the public eye. Here are some photos of Ellen Pompeo and her kids.
Pompeo is mom to daughters Stella Luna, who is 7, Sienna May, 2, and baby boy Eli Christopher, who is 5 months old.
Ever since becoming a mother, Pompeo has tried to keep her children out of the public eye. Pompeo told Today's Parent when her eldest daughter Stella was just a year old that keeping Stella's life private is a "luxury problem to have." She added: "I do try to keep her out, but I also have to keep her life as normal as possible. So it's just a balancing act, like anybody else — it's just a different balancing act."
Pompeo has occasionally posted pictures of her family to social media, including pictures at Halloween. In several photos, Pompeo angles the camera so fans can't see the kids' whole faces, or she shows only their backs. And it seems like Pompeo doesn't like to post many pictures of herself with her kids, though she has been photographed at public events with them.
But Pompeo has been a bit more open about discussing her kids' interests in interviews: including mentioning that her daughter Stella wants to be a doctor because of her mom's "job" at Grey's Anatomy!
Every time she comes to set the first thing she wants to do is, she just wants to go straight to Linda's [Klein, Grey's Anatomy's medical producer] office and play with all the medical things. All the fake organs.
And Pompeo may be loosening up about sharing pictures and videos of her kids, because she's posted several of her third child over the past few months. In late December, Pompeo posted a picture to Instagram of her husband holding their son. She announced his name in the caption of the photo: Eli Christopher.
Pompeo also recently shared an adorable black-and-white video of herself dancing with Eli Christopher.
Pompeo has a lot to dance about: on top of having a new baby, Pompeo also directed an episode of Grey's Anatomy, her first time doing so in the show's 13 season run. She told Variety it was only possible because the show has a "very family-friendly set."
It was a month and I banged it out and I'm really happy that I did it. I'm lucky that I live really close to where I work, and my kids get to come to set and they get to hang out — it's a very family-friendly set, so I just worked around that challenge by bringing my kids and my family to set all the time.
Pompeo doesn't put on airs about being a perfect working wife and mother, and admits that she's had help along the way.
"I have the most fantastic baby nurse, Jackie," Pompeo told Ellen DeGeneres on her talk show in March. "She helps me. I'd be nowhere without her because I work long days and I need help caring for him."
But whether they're kept out of the public eye or out and about, Pompeo has a beautiful family she should be proud of!