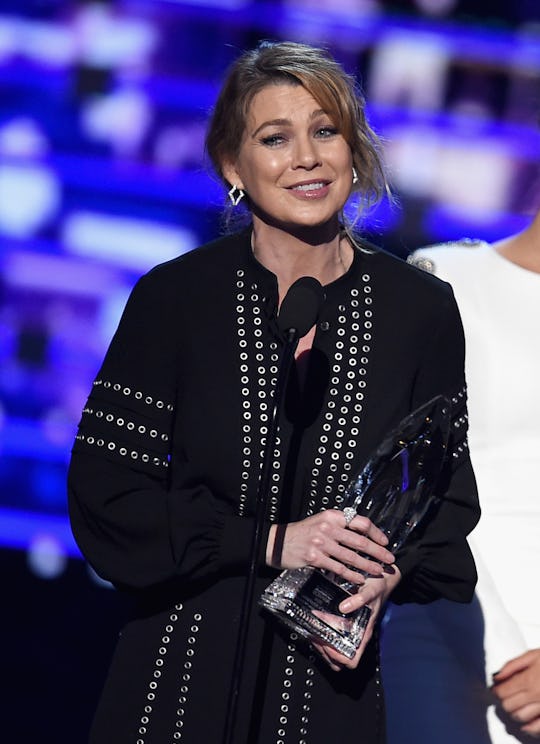 Kevin Winter/Getty Images Entertainment/Getty Images
Photos Of Ellen Pompeo's Kids Show A Happy Family
Congratulations are in order for Ellen Pompeo and her husband Chris Ivery. The two welcomed baby number three, Eli Christopher, sharing the news on Thursday. On Instagram, Pompeo posted a photo of her sweet son cuddling with his father, complete with the note: "Chris Ivery just fell a notch... I've got a new guy." Photos of Ellen Pompeo's kids are super sweet, too, showing off a very joyful family. Eli Christopher joins sisters Stella Luna and Sienna May, who are 7 and 2 years old, respectively. "Family and baby are all doing great," Pompeo's rep told Us Weekly.
The family was already seen out and about earlier in the week, despite the new baby news not having been announced at the time. On Wednesday, Pompeo and Ivery were out walking with their new baby and his big sister Stella. If Stella's relationship with little sister Sienna is any indication of what the sibling dynamics are like, then Eli Christopher's in luck. "She loves her," Pompeo told Ellen of her girls' relationship in 2015. Though it took some getting used to, Stella accepted Sienna wholeheartedly. This sets a great example for Sienna, who's no longer the baby of the family and has earned the role of big sister.
Pompeo's Instagram showed her new son's adorable debut into the world:
The image above looks a whole lot like one that Pompeo posted in 2014 with the caption: "Sienna May Ivery welcome to the world. We love you more than words can say."
Stella, of course, has been featured on the Instagram plenty. Pompeo's captured her firstborn perfectly:
With her husband not on Instagram, it's currently only possible to see the kids through Pompeo's eyes, leaving a noticeable void for fans looking for photos that feature Pompeo, Stella, AND Sienna. That, I suppose, is what paparazzi are for:
Hopefully, Pompeo is still able to enjoy some much deserved privacy with her growing family and some much needed rest. Just recently, Pompeo got into a Twitter fight over emoji races, sparking drawn out dialogue on both sides after some users found fault with Pompeo's use of black emojis. "You do realize... being married to a black man and having black children can make you a target from racist white people right? That's a thing," she tweeted. The debate continued to persist for hours and ended with an apology from Pompeo.
For now, it Pompeo's photos of her family may have to do. Though it might be a long shot, an Ivery Instagram account would be the ideal solution for fans who want to see more of the couple's beautiful children. Just saying.