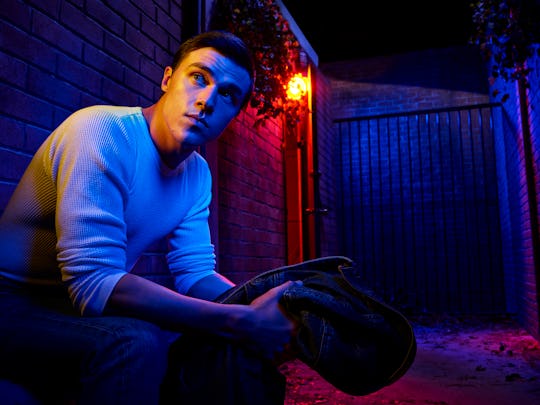 Pari Dukovic/FX
See How Finn Wittrock Transformed Into Jeff Trail For 'American Crime Story' — PHOTOS
For those most familiar with Finn Wittrock from American Horror Story, his casting as clean-cut Navy officer Jeff Trail on The Assassination of Gianni Versace may have seemed a little bit odd at first. You might have been introduced to Wittrock dressed up in Dandy Mott's creepy clown cosplay or Tristan Duffy's colorful wardrobe, making Trail feel like a departure. But taking a look at photos of Finn Wittrock compared to the real Jeff Trail makes it clear that that Wittrock really was the perfect choice for the part.
Jeff Trail was once Andrew Cunanan's friend, and his violent murder was depicted early on in "House by the Lake." The episode that follows, however, will explore who Trail was — and how Cunanan knew him — with a lot more depth. Trail was a former Navy officer who knew Cunanan when they both lived in San Diego, though Trail had moved to Minnesota to take on a new job as a district manager for commercial accounts at a propane company called Ferrellgas. His and Cunanan's friendship had already cooled by that point, though they were still in contact. It seems like "Don't Ask Don't Tell" will be the episode of The Assassination of Gianni Versace that delves into that part of the story.
It will also be the first time viewers really get to see Wittrock as Trail, barring his brief appearance in "House by the Lake." However, even in that short scene, his resemblance to Trail was pretty uncanny.
When David Madson went down to open the door for Jeff in Episode 4, unwittingly playing into Andrew's horrific plans, Wittrock was wearing what looked like a perfect reproduction of the real life Trail's Greenlake Crew sweatshirt. Details like that definitely help when trying to make an actor look more like the person they're portraying. The costuming strengthens the likeness while also showing how accurate American Crime Story has tried to be. As that sweatshirt shows, they've done their research.
Wittrock and Trail don't look exactly alike — the shapes of their faces are slightly different, and Trail had brown eyes whereas Wittrock's are a greenish-blue — but they do look enough like one another that it's easy to see why Wittrock was cast. Their features aren't totally dissimilar, plus they're both brunettes. Wittrock had also been styled to look even more like Trail on the show, getting a nearly identical haircut.
Minor differences in appearance are to be expected in fictionalized adaptations of real stories, but Wittrock and Trail really do look alike, especially once Wittrock is in character. He studied the real Trail a lot to do so, telling INTO that he relied on an anonymous interview Trail did for 48 Hours back in 1993 about being closeted in the military. Wittrock talked about how it helped him get a sense of who Trail was, saying:
I watched that a lot — every day, over and over, and tried to get his cadence and his rhythm and his shame and also his pride. He is a complicated fellow. And such a tragic ending because he seemed to have so much potential and just figuring out who he was and what he wanted to do with his life and he lived in a time when he was just a little too early for his time, kind of a trailblazer in a way, you know?
Though there is enough of a natural resemblance to make the casting choice make sense, everything else involved in transforming Wittrock into Trail helps enforce their similarities. The costumes, the haircut, and Wittrock's dedication to getting Trail's voice and mannerisms just right prove why Wittrock was really the right person for the job.
Check out Romper's new video series, Romper's Doula Diaries:
Watch full episodes of Romper's Doula Diaries on Facebook Watch.