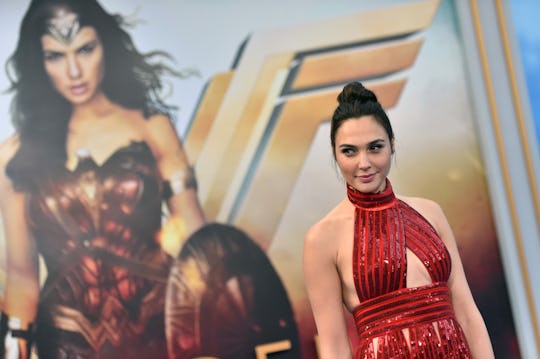 Frazer Harrison/Getty Images Entertainment/Getty Images
Perfect Pics Of Gal Gadot & Her Kids
Many women have been feeling extra empowered lately, thanks to Gal Gadot and her star-making turn in Wonder Woman. And while Gadot is inspiring on the big screen, she's also inspiring in her everyday life, as a mother of two daughters. Photos of Gal Gadot and her kids reveal how much she loves being a mother, how concerned she is about raising her daughters right, and, of course, how seemingly pulled together she manages to remain while doing it all.
Gadot and her husband, Yaron Versano, welcomed their second daughter, Maya, to the world back in March. (Yup, it's a very busy few months for Gadot.) Maya joins 6-year-old Alma, and the two of them seem to be some of the luckiest little girls around. Because not only is their mother helping to show girls all over the world that they too can be heroes, she's also wild about her own family.
Gadot gushed over her role as a mother in a recent interview with news.com.au, saying,
It's cheesy, but I feel like Wonder Woman when I give birth. When you deliver, you feel like you're a god. Like, "Oh my God, I made this!" The best thing is to become a mother and to give life.
And in an Instagram she posted shortly after Maya's birth, showing the family from the back, she wrote,
And then we were four... She is here, Maya. I feel so complete blessed and thankful for all the Wonders in my life #family #newborn #grateful
In fact, most of Gadot's Instagram posts involving her children obscure their faces in some way, at least in posts from more recent months as her star has risen. It's likely a thoughtful strategy on Gadot's part in order to protect Maya and Alma's privacy (or to cut down on the number of creepy comments from fans saying they want to marry her 6-year-old daughter. Yes, those exist. The internet is amazing, and the internet is awful.)
But feast your eyes on gorgeously-framed photos of Gadot and Alma walking in nature, doing art, or having some manicure time!
And Gadot's got a select few unobscured photos up, showing just how happily she and Alma smile when they're together. Gadot even seems to have figured out how to get in some quality cuddle time while getting ready for her close-up.
And back in 2016, Gadot posted a photo of her and Alma, writing, "This little lady has a beautiful soul, she surprises me everyday, I hope to always be able to brighten up her day like she does mine."
I have no doubt that Gadot, her husband, and their daughters make a super family — no super-powers necessary.