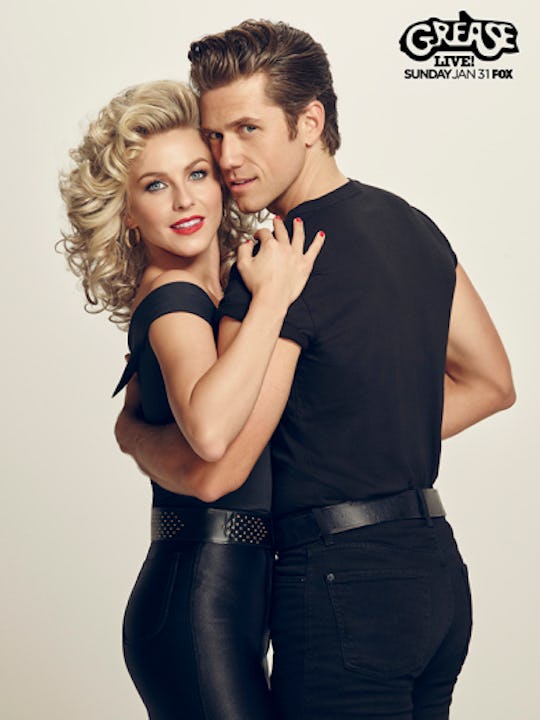 Photos Of 'Grease: Live' Cast Revealed, & We're Hopelessly Devoted To Julianne Hough & Aaron Tveit Already
As of late, it seems like every musical is getting its chance to shine on TV. (Hello, Sound of Music, Peter Pan, and Dec. 3's The Wiz LIVE!.) But I'm not complaining. Especially after FOX released the cast photos for Grease: Live, which would have any Broadway buff or Danny Zuko lover revving up their Grease Lightening engines in anticipation. Even though the live show won't air on FOX until Jan. 31, I'm calling it now: It's going to be awesome.
If you're a fan of the 1978 classic (or 1972 Broadway show), a bit more info about the revival that will send your heart racing: Choreographer Zach Woodlee will be part of the creative team. Though his name may be unfamiliar, his credentials certainly are not — Woodlee choreographed scenes for Glee, Annie, and the 2008 VMAs. But that's not all. While she won't have a character role in the play, Jessie J will sing "Grease (Is the Word)" to ring in the show. So, if you weren't hyped before, it is safe to say you are now.
And, following the release of the photos, The Internet is beyond pleased. Whether it is the '50s-themed costumes, timeless tunes, or the excellent casting, there are all sorts of elements of the show that are sending fans atwitter on Twitter.
And, taking a quick look at the hashtags, it's clear people are super excited that a certain High School Musical favorite is making their way on the Grease stage. "I'm more excited for Grease: Live than The Wiz live. Vanessa Hudgens is Rizzo!!!!, one excited user wrote. Another tweeted, "GREASE LIVE LOOKS SO PROMISING I CANT WAIT LIKE LOOK AT VANESSA LIKE SLAYYYYYYY."
So who exactly is joining the Grease: Live cast beyond Hudgens? This line-up is pretty legit:
Keke Palmer as Marty
It seems like yesterday we were watching a young Palmer on True Jackson, VP. And between a movie career (beyond Akeelah and the Bee) and a budding music career, she is taking on live performances. It'll be interesting to see how the multi-talented actress will take on this role.
Aaron Tveit as Danny
Though you probably know Tripp — I mean Tveit — most from Gossip Girl, this isn't his first time taking on a Broadway classic. He played Frank Abagnale Jr. in Catch Me As You Can for a five-month run, on top of playing Enjolras in Les Misérables' 2013 film adaptation. So, we're pretty sure he'll nail John Travolta's role.
Julianne Hough as Sandy
A two-time professional winner of Dancing With the Stars, Hough knows her way around a stage. And she knows a thing or two about musical remakes, as she was in the 2011 version of Footloose. So we are pretty sure her fancy feet will bode well for Grease.
Vanessa Hudgens as Rizzo
Like Palmer, we grew up with Hudgens. Though we were first introduced to her during High School Musical, she has enjoyed a successful music and film career since the Disney hit. (Hello Spring Breakers!) We definitely know what she can pull off the bad girl, and it is a safe bet we'll see her channeling her inner Gabriella this January for Grease.
Carly Rae Jepsen as Frenchy
Okay, we all have sung a line (or all of) "Call Me Maybe" on multiple occasions (read: all of 2012). But that's not all Jepsen is known for. Her new '80s influenced album, Emotion, is everything. So her doing justice as Frenchy is a given. Now, if only we could see her as Frenchy — more photos please, FOX!
Image: FOX