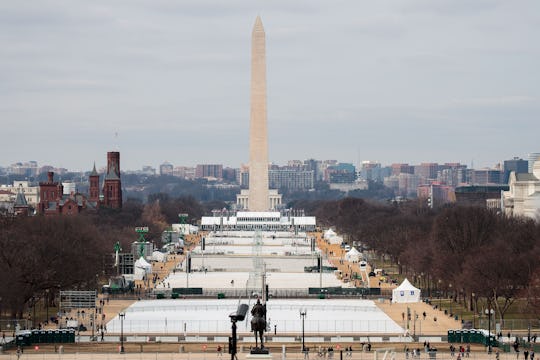 Drew Angerer/Getty Images News/Getty Images
Hillary Clinton Has Arrived At The Inauguration
Ever since Michelle Obama's speech at the Democratic National Convention in July, supporters of former Secretary of State Hillary Clinton have been encouraged to "go high," never stooping to the level of the opposition, no matter how tempting. Photos of Hillary Clinton at Trump's inauguration on Friday show that the former Secretary of State is the perfect model for such behavior. Clinton attended the inauguration alongside her husband, 42nd President Bill Clinton. It would have been easy to skip the ceremony, as more than 60 members of Congress did. It's a perfectly appropriate and peaceful reaction to denounce what many see as an illegitimate presidency.
And even if Clinton felt that she lost fair and square, it's still got to be painful to watch as a man who treated her with utter misogynistic contempt throughout the presidential race receives the prize she fought so hard for. It's one thing to shake hands and say "good game" after losing at Monopoly, but quite another to attend a ceremony in honor of the man who called you "nasty" and "disgusting" for merely existing in the same space as him and daring to be asked for equal treatment. But she did it, and moreover, she did it with dignity and grace.
Clinton arrived at the White House wearing a white pantsuit. Pantsuits are a famous favorite for Clinton, but could there be any hidden meaning behind her color choice? It's the same color she wore to the Democratic National Convention, and many noted that white was the color suffragettes wore when they fought for the right to vote. According to The New York Times, this spurred a trend of women wearing white to vote for Clinton in November. According to Huffington Post Style, "white symbolizes purity, cleanliness, safety, completion, strength and neutrality" and conveys "a well-balanced, optimistic personality." That sounds like the perfect message for Clinton to send.
Clinton arrived at the U.S. Capitol for the swearing-in ceremony with a smile on her face, a feat that many simply can't imagine. Sadly, the strength and poise she showed only highlighted that these are the same qualities needed in a president.
Clinton kept smiling through it all, even though others had a bit of trouble. Though the inauguration was heartbreaking for many to watch, let Clinton be your role model in the coming years. Don't stay home and cower in fear of Trump. Stand up and face him.