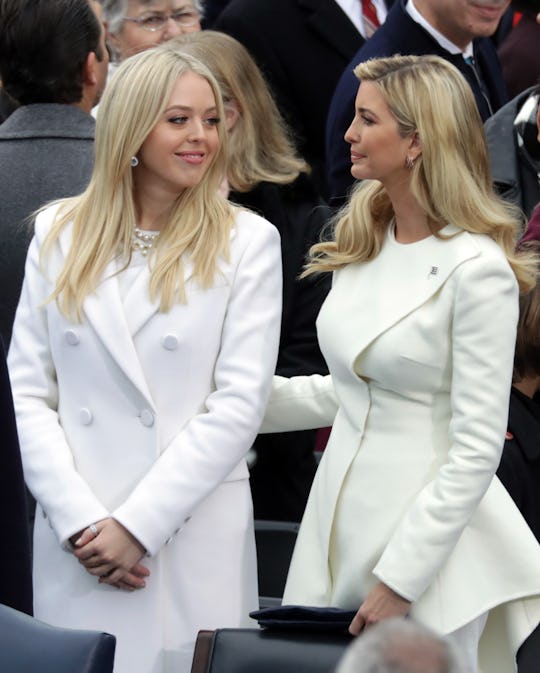 Chip Somodevilla/Getty Images News/Getty Images
Photos Of Ivanka & Tiffany Trump Being Sisterly Are Pretty Rare
While Ivanka Trump has been in the limelight quite a bit during her father's presidency, her half-sister, Tiffany Trump, hasn't been as present in the public eye during his campaign — or while he's acted as president. And the truth is, even photos of Ivanka and Tiffany Trump being sisters at all are fairly rare, because they just don't seem to spend that much time together. While Tiffany has been partying with Lindsay Lohan in recent days, and attending law school at Georgetown since 2017, Ivanka has been hanging around the White House and reportedly closing down her fashion line. It appears there's just not a whole lot of chances for these two women to look like sister BFFs together for a photo opportunity.
Tiffany was raised essentially by a single mother, Marla Maples — President Donald Trump's second wife — in Los Angeles, according to The New York Times. By comparison, Ivanka was mostly raised in New York by her mother, Ivana Trump, along with her siblings, Donald Jr. and Eric, according to TIME.
In fact, Ivana herself has written that "the credit for raising such great kids belongs to me," and that she was responsible for most of the actual upbringing of Ivanka and her brothers. Considering their very different and distant childhoods, is it any wonder that Tiffany and Ivanka just didn't have much opportunity to be around each other all that often as kids?
So it's admittedly pretty intriguing when we do see photos of Ivanka and Tiffany together, especially if they're acting at all sisterly. Tiffany and her father, President Trump, can sometimes go for months without speaking, according to People, versus Ivanka who works as part of his administration and probably sees him quite a bit comparatively. That's a combination of situations that doesn't really make for many great sister outings.
That certainly doesn't mean that Ivanka and Tiffany don't necessarily want to see each other — in fact, when they do get together, they seem to enjoy each other's company as sisters. They just both live very different, busy lives these days.
In fact, Ivanka, for one, seems to have nothing but good things to say about her younger sister. In a phone interview, Ivanka once said of Tiffany, according to The New York Times:
Tiffany has always been a very special person, very confident, very driven, always the hardest worker and not bashful about it. A lot of people are happy to get by without doing a lot of work, or work hard and pretend they don't. She is proud of her work.
The sisters do at least seem to get together for special occasions. In the photo above, they posed together at the National Christmas Tree Lighting in 2017, for example.
And if the photos Tiffany shared in the above Instagram post are to be believed, there are likely more private photos of the two women acting like sisters when they were younger that just haven't been shared with the public.
Tiffany might have a pretty active social media presence, but her social media accounts also seem very specifically crafted. The truth is, there might be a lot more private photos of Tiffany and Ivanka together as adults, too, and having fun as sisters. They might just not be available to the public, and that's OK.
The two seem to care about each other, even if they don't seem to be seen much together these days. Ivanka told People in 2016 that growing up, she and Tiffany "would see each other on all of the holidays and talk to each other frequently." She added, "She's my little sister! I've been close to Tiffany her whole life, and I really love her."
While it can be rare to see the Trump sisters together — and in a photo having a sisterly moment, to boot — they do seem to appreciate the times they do share with one another.