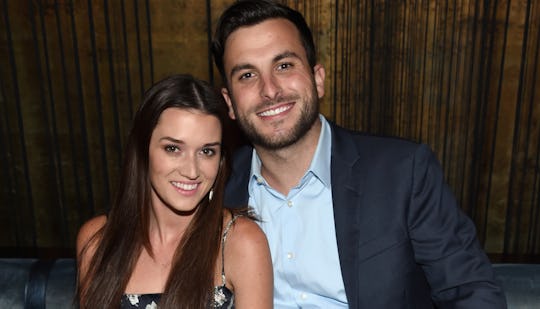 Jamie McCarthy/Getty Images for WE tv
Photos Of Jade Roper & Tanner Tolbert's Daughter Are So Full Of Love
On Aug. 17, Bachelor in Paradise stars Jade Roper and Tanner Tolbert welcomed their first child together, a girl. It hasn't even been a month yet, but the couple are clearly loving the new parent life right now, as photos of Jade Roper and Tanner Tolbert's daughter reveal. The happy first-time parents have been eagerly sharing adorably sweet photos of their daughter Emerson Avery on their social media accounts, and I must admit — she is one cute baby.
Emerson Avery arrived exactly one month before her due date, People reported. On her Twitter account, Roper revealed that her daughter was born weighing 6 pounds, 8 ounces and measured 20 inches long. While Roper and Tolbert's daughter had to spend some time in the NICU, both mother and baby are already home and doing well.
Tolbert has been posting so many lovely photos of both his wife and their new daughter on Instagram, with the sweetest captions, like this beautiful sentiment: "For all the things my hands have held... the best by far is you..." In the photo, Tolbert snuggles his newborn daughter when she's just a day old. Seriously, the looks of "over the moon" love these new parents show for their daughter are just too sweet.
While both Roper and Tolbert have shared several professionally shot photos of Emerson, it's their candids that are probably my favorite, as they capture all the little imperfect moments of sweetness as a new family. And sometimes, even the unexpected can happen when you have a professional photographer on hand, like this hilarious outtake from a newborn photo shoot with photographer Melissa Rieke (warning: poop abounds).
There are definitely a bunch of photos of Emerson sleeping — but then again, that's to be expected given that being a newborn is seriously tiring work.
Emerson Avery has also been rocking some amazing headband and baby hat action since her early arrival. Even when she had to spend some time in the NICU, her dad was able to make "light" of the situation — sorry, couldn't help myself.
But let's talk about those headbands and hats, shall we? Little Emerson managed to even make hospital standards look swanky as all get out.
Thankfully, her mom happens to have a stash of gorgeous floral-adorned headbands at the ready, too. Also, can we talk about the tiny little tongue sticking out? Oh my goodness.
It's always such a special time when a family of two becomes a family of three, and it's obvious from Roper and Tolbert that they truly couldn't be happier right now.
D'awww, congrats you guys and enjoy these blissful moments.