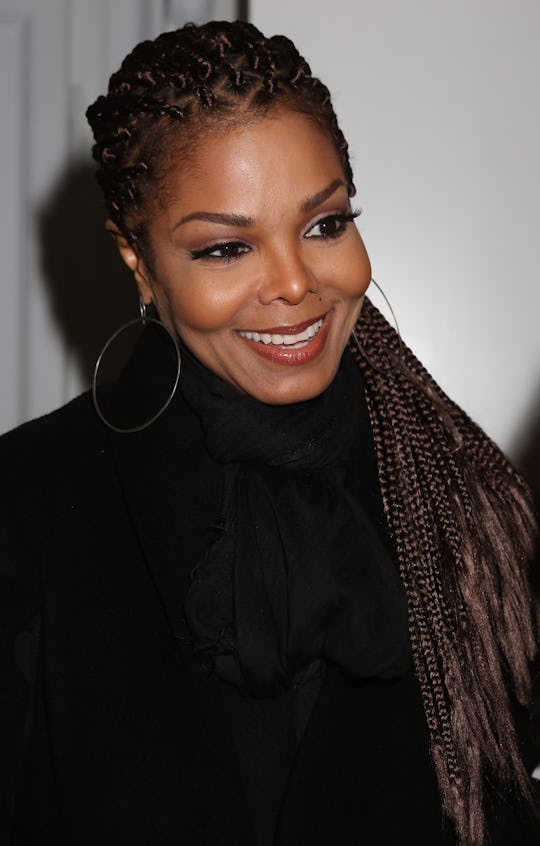 Vincenzo Lombardo/Getty Images Entertainment/Getty Images
Don't Expect Pics Of Janet Jackson's Baby Just Yet
In exciting news earlier this week, Janet Jackon's rep happily announced that Jackson and her husband, Wissam Al Mana, had "welcome[d] their new son Eissa Al Mana into the world" on Tuesday, Jan. 3. Seeing as this is the 50-year-old pop star and icon's first child, fans are understandably ecstatic, eagerly awaiting any semblance of a snap of her baby, though they shouldn't get their hopes up quite yet. Photos of Janet Jackson's baby don't exist at the moment, and that's perfectly OK.
Privacy is a long-celebrated value of Jackson's, and, honestly, the question of true relevance isn't about photos, but instead should consist of inquiries about the family's health. Thankfully, the rep confirms that "Janet had a stress-free healthy delivery and is resting comfortably."
Jackson shared her hopes of a growing family last April, announcing to her fans: "My husband and I are planning our family, so I'm going to have to delay the tour." She added, "I have to rest up, doctor's orders," and cancelled a portion of her tour. She didn't officially announce her pregnancy until October, an event that included a photoshoot by People as well as the sweet comment: "We thank God for our blessing."
Given the covert nature with which she treated her pregnancy, it isn't all that surprising that Jackson has yet to flood social media with copious baby photos. Though photos of a pregnant-looking Jackson had surfaced before she had even announced her pregnancy, Jackson still waited to share the news until she was absolutely ready. Perhaps that will be her approach to this step in her life as well—enjoying a moment of pause and reflection until she and her husband are absolutely ready to let the world in on their new bundle of joy.
Members of the Jackson family offered various messages of happiness upon Eissa's arrival into the world. Jackson's sister Latoya tweeted a photo of an "It's A Boy" balloon, along with her congratulations. Jackson's father, Joe Jackson, wrote a message on his website, saying: "Congratulations to my daughter Janet Jackson on the birth of my Grandson. Making me a grandfather again! Wishing you all the love and happiness a father could wish a daughter." Jackson's nephew, TJ Jackson, tweeted: "So so happy for you & Wissam. Enjoy every minute with your greatest hit, Elissa," finished off by the hashtag "#parenthoodisthebest."
Eissa is definitely entering an open-armed and loving family, and his mother quite obviously has his very best interests at heart. Jackson's privacy at such an intimate moment shows just the kind of mother she will be — one who focuses on the important things first, rather than the trivial ones.