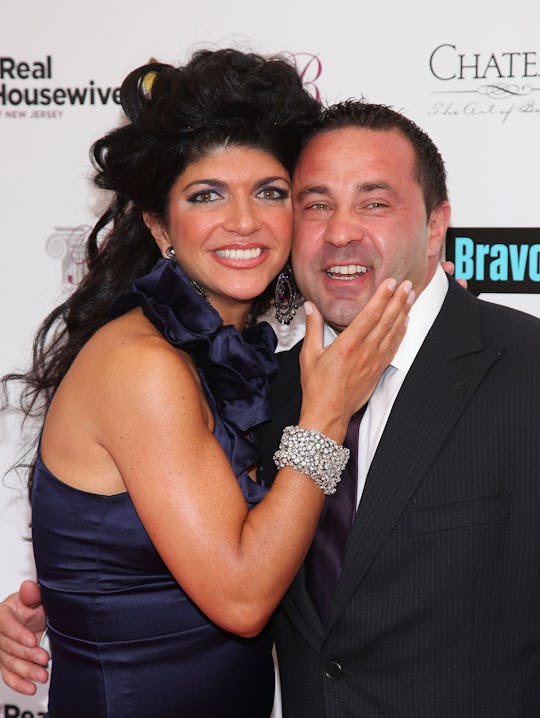 Mike Coppola/Getty Images Entertainment/Getty Images
Photos Of Joe & Teresa Giudice Show A Couple Who Can Make It Through Anything
Like all marriages, Joe and Teresa Giudice's union has not always been completely perfect. Particularly in recent years, they've been dogged by some persistent divorce rumors. Now that Joe has begun his 3+ year stay at Fort Dix prison, some issues are sure to arise. I can only imagine that it's hard to keep the flame alive with literally zero alone time. But recent interviews with friends and family, including from fellow 'Wives Jacqueline Laurita and Siggy Flicker (a certified relationship expert) say that Joe and Teresa will never divorce. This Real Housewives of New Jersey couple aren't exactly the two people I'd most like to model my life on, but if they can weather this storm, then they are giving me some serious relationship goals. Photos of Joe and Teresa Giudice show a couple devoted to each other from day one.
Joe and Teresa have known each other basically as long as they've been alive. Teresa loves to tell the story of how Joe's father visited Teresa's mother in the hospital when she was born. Their romance started when they were teenagers, and the high school sweethearts have been together ever since, in good times and some really, really bad times.
Teresa posted this throwback picture on Joe's birthday and it's almost too adorable how happy and in love this young couple looks.
Teresa also posted this picture on Joe's birthday. They're a little older, but clearly still very connected. Aww.
As we all know, family is extremely important to the Giudice clan, and this is part of the reason the people close to them don't think they'll ever break up. Us Weekly reported Teresa's cousin and frequent Real Housewives of New Jersey character Rosie Pierri as saying, ""[They will] absolutely [stay together]. Because I know them both and they both love each other. And we don't believe in divorce. We're Catholic Italians and we grow closer together as the years goes by." Jacqueline put it more bluntly, "I think that if she can get through our fights and Joe calling her a C-word, I think that they're going to make it work." Fair enough.
Real Housewives newbie, Siggy, also weighed in the couple's romance, and her predictions for their future. Though she hasn't known them for as long as Rosie or Jacqueline, she is a relationship expert, so she should know what she's talking about. Bravo quoted her saying, "But the love, the foundation of their love is there. And anybody who tries to rip it apart, it's just not gonna work. It's not gonna work, I saw it with my own two eyes."
With these pictures, I think the rest of us can see it with our two eyes too. This couple is gonna last.