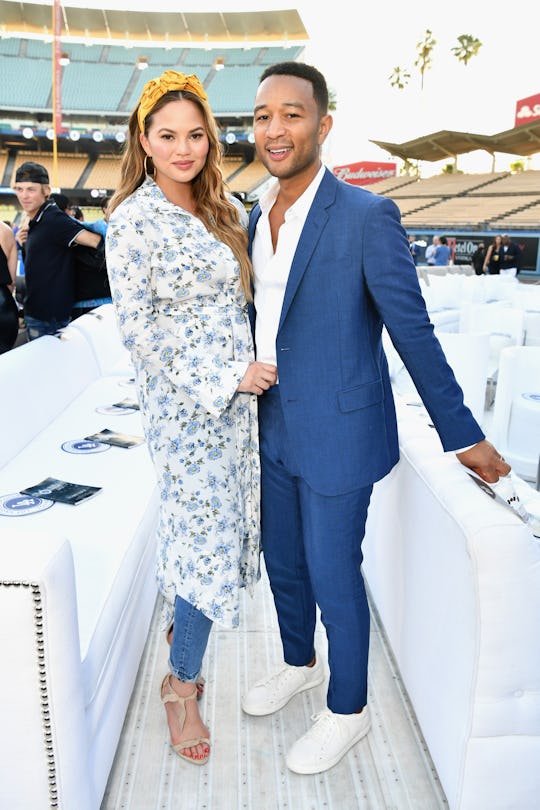 Emma McIntyre/Getty Images Entertainment/Getty Images
If You're Not Convinced Miles Is His Dad's Twin, Look At These Photos Of A Baby John Legend
There's a lot we know about the Teigen-Legend family: they're funny, they're cute, they're super talented, and they all... look a lot alike. (Genetics, huh?) In the weeks and months since Chrissy Teigen delivered her second child, a son named Miles, fans have been clamoring over the fact that he bears such a striking resemblance to his dad. In fact, these photos of John Legend as a baby vs. Miles now prove that they are, indeed, twinning as hard as everyone is saying, and the resemblance definitely lives up to the hype.
The fanfare really all began last month. On July 22, Teigen posted a short video of herself playing with baby Miles. It was one of the first times the world got a full view of his face, and fans immediately started commenting on how much he looked like his dad, Legend, as Marie Claire reported. "Omg John's twin," one fan comment reads on the post. "He looks so much like his daddy, it's crazy!" another wrote, with many, many more echoing the sentiment.
Over the years, Teigen has posted a handful of photos of her husband, for everything from birthday celebrations to #throwbackthursdays. Since their children were born, fans have dug them back up to evaluate just how much he looks like them. Though there are mixed opinions on whether or not their daughter, Luna, or Miles is more his twin, here are the best old photos of Legend.
John Legend's Retro Baby Pic...
In this December 2013 post of Legend laying in, er, yellow fur as a small baby, many fans replied saying that he looked so much like his daughter, Luna, who was born in 2016, according to E! News.
"Wow... Now I see where y'all beautiful daughter gets her beauty from," one fan wrote. "This is an exact replica of your baby," said another.
Then, in 2018, as Entertainment Tonight reported, Teigen shared a photo of Legend and 2-year-old Luna, in which she called them "twin humans."
... And One Of The First Photos Of Baby Miles
After posting the video that started it all, Teigen uploaded what would be one of Miles' first photos. Immediately, fans started responding saying: "He looks identical to John!!!" and "He has his Daddy's expression!"
John Legend In Black & White
The next year, Teigen once again raided the family photo album for another photo of Legend as a baby. However, this time, she had not so much a sweet sentiment as a pretty hilariously inappropriate joke to share (though, what else is new, really?)
"Blind Item: this baby would grow into someone I would later have sex with," Teigen wrote in the caption. (Kind of gross, kind of laughing out loud, TBH.)
Here's Little Miles At 1 Month Old
Nearly a month after he was born, Teigen posted this photo of her son relaxing with his feet up. "Hey dudes," the caption read.
And, yes, fans couldn't help but compare. One fan wrote, "Little john ❤️️."
Then There's John Legend's Sweet Birthday Shout Out
Later that year, Teigen posted another close-up of a young Legend, saying: "Happy birthday to my best friend in the whole wide world @johnlegend I love you schmoopy no you schmoopy no you schmoopy." The next year, Teigen posted a similarly adorable, albeit a bit more sincere, tribute for Legend's 37th, saying:
Another year with you has flown by and I am so proud of what you've accomplished. Every year, I wonder how things can even get better but you always find a way. Happy *37th* birthday to the most wonderful, hard-working, loving being I, and anyone who has ever met you, have ever known. We love you, my handsome old man.Also I'm sorry I thought you were 37 all year.
You Can't Miss Chrissy Teigen Soothing Baby Miles
In this Aug. 13 video, which shows another close up of Miles' face, Teigen is seen playing with his ears and making coo'ing noises at her son. (Awww.)
And you bet fans compared his looks to his dad's yet again. "You gave birth to John Legend 😂😂 Literally," one follower commented.
Here's John Legend Looking Like A Grown Up
In 2014, Teigen posted a photo of Legend at approximately 3 or 4 years old, which was a nice extension from the usual newborn pictures. In it, he's wearing a Mickey Mouse T-shirt and half-smiling at the camera. Again, fans later noticed that his daughter Luna looks so much like him even there, once again making the world swoon with cuteness.
And Then There's Little Miles Growing Up & Taking His First Plane Ride
It will be a few years before fans can compare photos of Miles to Legend as a toddler, but for now, we can all bask in the glorious cuteness of Miles being a "grown up" and sitting next to his sister on what is (presumably) his first plane ride. "We made it home! (photo for photo purposes, not approved seating by the FAA)" Teigen wrote in the caption.
It goes without saying, but Teigen and Legend have made some truly cute babies. And it's pretty clear from these photos that little Miles is definitely taking after his dad in some adorable ways right now.