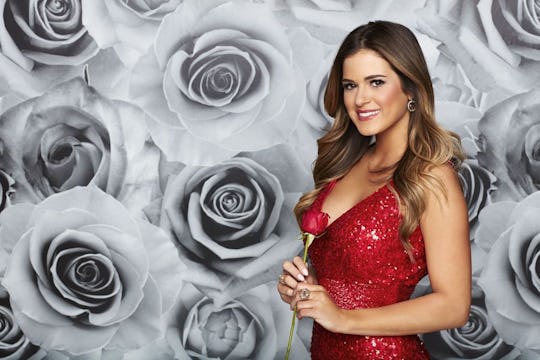 Photos Of JoJo Fletcher's Engagement Ring Are Here & They Are Drop Dead Gorgeous
Brace yourselves, Bachelor Nation, because the day we have all been waiting for has finally arrived. JoJo chose a winner on the The Bachelorette's season finale on Monday night, and the excitement is at an all-time high. The show's finale, of course, comes with a super romantic proposal, and while I couldn't wait to see which of the guys will be getting down on one knee, all I could really think about is the ring. Photos of JoJo Fletcher's engagement ring have finally been revealed, and it's too pretty for words.
JoJo's fashion sense has been a major part of this season's Bachelorette, so I imagine she has a pretty good idea of what she'd like in an engagement ring. In fact, Fletcher has previously spilled on her dream ring to InStyle saying, "I always lean towards a more simple setting. Instead of multiple large stones, I love one big rock on a dainty, small band. Something timeless."
As for how the ring is actually chosen on the show, jewelry designer Neil Lane usually presents multiple options to both contestants, and each picks one they think suits JoJo best. Jordan was clearly spot on, because the ring he has chosen is exactly what JoJo has described, further proving that he was the right choice.
After saying goodbye to Robby in what was possibly one of the most heartbreaking breakups in Bachelor history, Jordan pops the big question to JoJo, and she joyfully accepts. He presents her with a stunning sparkler, comprised of one large oval-shaped diamond set on a thin band filled with tiny little diamonds. It's exactly the type of ring she described to InStyle — simple, dainty, with one large stone in the center.
Take a look at the gorgeous diamond.
Does Jordan have good taste, or what?! Personally, I prefer Jordan's clean and simple ring over Robby's robust, art-deco type style, and it seems the Twitterverse agrees.
Jordan definitely deserves a round of applause for that ring choice.
Even fans who were #TeamRobby agree that Jordan chose the better ring.
He may not have a Super Bowl ring, but this ring has given him something even better.