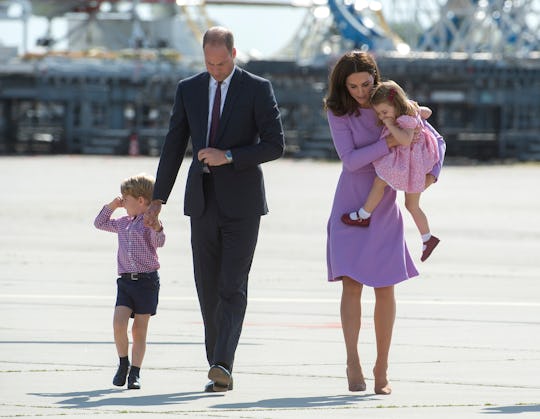 Pool/Getty Images Entertainment/Getty Images
Photos Of Kate Middleton & Her Kids Show How Hard It Is To Raise Royalty
Taking only a cursory glance at Catherine, Duchess of Cambridge, and her children, Prince George and Princess Charlotte, a casual observer might wonder if they're secretly robots, custom designed to embody the polish and grace befitting the British royal family. Your average mom who doesn't live in a castle might even be a little jealous. But these photos of Kate Middleton and her kids show that they're actually human, complete with the accompanying imperfections.
Yes, they're always impeccably dressed during public appearances. The family of four tends to color coordinate their outfits — never outright matching, of course, but grouping their palettes within the same hues. Their hair is always perfect down to the last strand, and George never wears long trousers, lest we forget that he's a member of the upper class. And mom Kate, whose presentation represents the family as a whole, is never without a smile. Seems as though they have a pretty easy life — but if you look closely, you'll see that her job is actually more challenging than you'd think, because that carefully curated image takes real work to maintain. And she's doing it all while wrangling two toddlers, in heels, no less. Parenting is hard enough as it is, but parenting while looking perfect? Oof.
Think about all the social interactions most moms have to help their 2-year-olds navigate. Giving Grandma a kiss, making polite conversation with strangers at the supermarket, playing nicely with other kids at the park, meeting mom's boss at a company picnic. If you've got experience with these situations, you know that sometimes it goes horribly, embarassingly wrong. Now imagine introducing your kid to foreign dignitaries and getting them to shake hands without accidentally wiping snot on a prime minister's sleeve.
Every time the royal family embarks on a trip, they're expected to pose outside the airplane and look stunning, but Kate also has to deal with her children at the same time. Charlotte, like most kids her age, is not a big fan of walking, so Kate has to do it all with an extra 30 pounds on her hip.
And heaven forbid she audibly scold her son, who's third in line for the throne. At most events, you'll catch her crouching down to speak to him a few times, probably offering him bribes to stand still and smile for just a few more minutes, until the press leaves. Ever crouch in high heels with a toddler on your lap? She's likely in a fair amount of pain there, but you'd never know it. And don't forget she has to make sure her dress is positioned modestly the whole time, too.
And the reason that not one strand of her kids' hair is out of place? She's constantly fixing it, because there are cameras all around them.
I mean, constantly. I don't know if George is anything like my son, but he hates it when I mess with his hair, and I bet I do it far less often.
Anyone else ever have a public hand-holding tug of war with their kids? It's frustrating, because the kid is usually the one doing all the tugging, but to the casual onlooker, it might appear that the parent is actually dragging their child. You don't want to let go, because they could run off (or even fall, depending on how hard they're pulling), but by holding on, you risk looking like a monster.
And then there's the delicate balance of reacting appropriately to a fall. You don't want to make too big of a deal, because that can cause the kid to melt down, but brushing it off seems callous.
Luckily, the family's social calendar does take the children into consideration, allowing them to have kid-friendly experiences like this very normal "children's party" in Victoria, British Columbia, that probably did not feature any juice boxes.
But based on what we've seen of George and Charlotte, they seem like pretty well-adjusted, adorable kids, so it looks like Kate's really nailing it, as hard as it must be. Once that third kid comes along, though, she might want to look into one of those Egyptian-style carrying beds for Charlotte, for the sake of her back and feet. I know I won't judge her for it.
Check out Romper's new video series, Bearing The Motherload, where disagreeing parents from different sides of an issue sit down with a mediator and talk about how to support (and not judge) each other's parenting perspectives. New episodes air Mondays on Facebook.