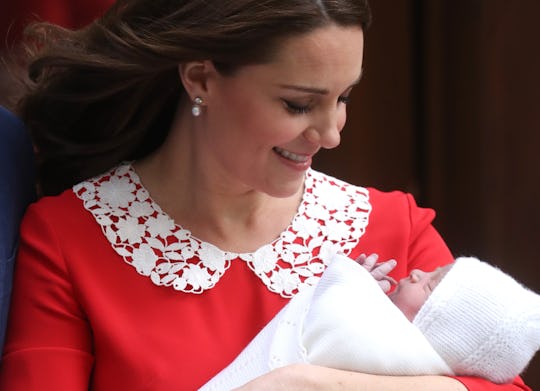 Chris Jackson/Getty Images Entertainment/Getty Images
These Photos Of Kate Middleton Then & Now Show How Far She Has Come
When Kate Middleton and Prince William welcomed their third child, Prince Louis, back in April, it was hard not to think about Middleton's journey and everything that brought her to that point. Middleton has had quite the ride — from the time royal watchers were first introduced to Middleton as Prince William's girlfriend, to their royal wedding, to her life as a mother. Looking at photos of Kate Middleton then and now really shows how far she has come and how stunning she has been the whole entire time.
There are so many adjectives that come to mind when you think of Middleton — flawless, regal, and poised, just to name a few. Although the Duchess of Cambridge wasn't born into royalty, it always seemed as if she was fit to be the wife of a future king of the United Kingdom. From the time that royal watchers first heard Middleton speak during her engagement interview with Prince William in November 2010, it was hard not to have a hunch that it would be easy for the world to fall in love with her.
In the interview, Middleton revealed that getting engaged was a huge surprise, but that she was so excited to join the family, according to ABC News. At the time, Prince William and Middleton said that they would have kids eventually, but would take things "one step at a time."
It's hard to believe how far Middleton has come in the past eight years, but looking back on photos of Middleton then and now is physical proof of her journey.
As A Child
Although Middleton was raised differently from her husband (who is the future King of the United Kingdom), she didn't have an average life, either. Middleton's parents had an online company selling paper goods and party decorations, according to the Guardian, which allowed them to send their three children — Kate, Pippa, and James — to private school and then eventually St. Andrew's University where she met Prince William, according to ABC News.
Although Middleton might appear to be so composed now, Marcia Moody, author of Kate: A Biography, told Parade in 2013 that Middleton hadn't always been that way, especially during her childhood. Moody said, according to Parade:
She was a complete tomboy when she was a young girl, and even as a teenager she was more interested in sports and outdoor activities than fashion and makeup. I think as she grew into a young woman and moved to London she became more put together. The real Kate is very much a lady, and this comes across when she's in public, but underneath is still the girl who likes a bit of rough and tumble.
This can be seen in the adorable photos of Middleton from her childhood, climbing on a rock, and how her hair looked a little out of place from her graduation from St. Andrew's University. But her transition from tomboy to the Future Mrs. Duchess of Cambridge was only natural.
Then, Happily Engaged
First impressions are everything. But during her engagement interview, Middleton revealed that it took her a while to open up to Prince William because of her nerves. "Well I actually think I went bright red when I met you and scuttled off, feeling very shy about meeting you," Middleton told Prince William during the interview, according to ABC News. "...It did take us a bit of time to get to know each other, but we did become very close friends quite early."
In their engagement portraits and photos taken of them shortly after, you can tell how Middleton is to be engaged to the love of her life — her happiness is unmatched.
& Lawfully Wedded
Middleton and Prince William had dated for seven years before getting engaged, according to the Telegraph. So when their wedding finally happened in April 2011, people were pretty excited to say the least. In the moment, during their wedding, Middleton looked absolutely stunning showing that all of her waiting paid off. She could not have looked any more beautiful on her big day.
Now, A Mom Of Three
But in the years since her wedding, a lot has changed. In July 2013, almost five years ago, Middleton gave birth to her first child — a son named Prince George, according to Telegraph. In early May 2015, Middleton gave birth to her second child and the couple's first daughter, Princess Charlotte, according to Forbes. And finally, this past April, their third child, Prince Louis was born.
Sure, Middleton looked great before, but you can tell that motherhood looks fantastic on Middleton. In every single photo with her kids, she is attentive to them and clearly cares so much.
Although Middleton might have different priorities than she used to, it doesn't look like much has changed between her and Prince William. In fact Prince William is so proud of his wife and her role as a natural mother. "Catherine has been doing an amazing job as a mother and I'm very proud of her," Prince William told the BBC in 2015, according to Hello!.
No matter what phase in her life, Middleton has naturally adapted to every single role — looking at and comparing photos of Middleton then and now only proves that.