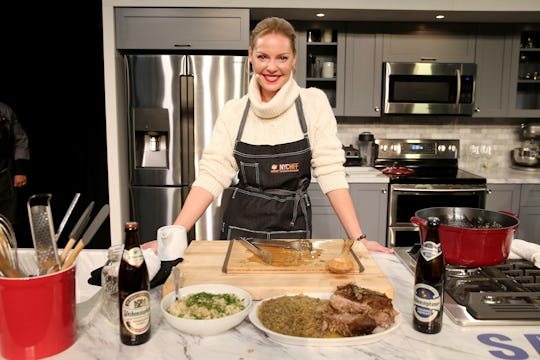 Neilson Barnard/Getty Images Entertainment/Getty Images
Katherine Heigl & Her Kids Are Totally Adorable
Ah, remember the mid-2000's? When romantic comedies ruled all, and we were on the cusp of an Obama presidency? When Grey's Anatomy was in its prime, and the reigning queen of our screens was Katherine Heigl? Well, I do. I look back on those days with an air of regret, because I didn't realize how good I had it, until it was gone. Alas, now we have a giant tangerine in the White House, and films like The Ugly Truth and 27 Dresses seem like a distant memory. Okay, maybe I'm romanticizing it all a little bit, but really, I can't be the only one who misses seeing Heigl on a regular basis. Well, in TV and movies, that is. Because I totally follow all of Heigl's social media, and I don't feel the least bit guilty about it. After Heigl left Grey's Anatomy, though, it seems her appearances became fewer and fewer, until, finally, the only show she was on, State of Affairs, was canceled in 2015. Since then, though, Heigl has been an avid user of social media, posting plenty of pictures to make me forget her absence on my TV, for now. And these photos of Katherine Heigl and her kids prove just how well she's doing, and what a total boss lady she is, no matter what she's up to.
The mother of three, who lives on a ranch in Park City, Utah, posts many photos of her family — and thank goodness. Her three kids — Nancy Leigh Kelley, Adalaide Marie Hope Kelley, Joshua Bishop Kelley, Jr — make frequent appearances in the posts, and they're utterly adorable.
See for yourself:
Heigl and her husband, singer Josh Kelly, were married in 2007, and chose to adopt their first daughter, Nancy Leigh, shortly thereafter, in 2009, from South Korea. Then came their second little girl, Adalaide Marie Hope, in 2012, in a U.S. adoption.
And now, they've welcomed their third child, baby Joshua Bishop, whom they conceived the old-fashioned way, in 2017. So, ya know, it isn't that awful of a year so far.
While everyone is excited to see Heigl in her upcoming projects (she has a new movie and show coming out this year!), I'm content with clinging to these precious photos for the time being.
Heigl also writes her own lifestyle blog, Those Heavenly Days, in which she shares everything from recipes, to decor ideas, to even more photos of her little ones.
Oh, she also posts pictures of animals to her Instagram, because she can do no wrong.
Keep on posting, Katherine — you and your family are making 2017 a lot more bearable.