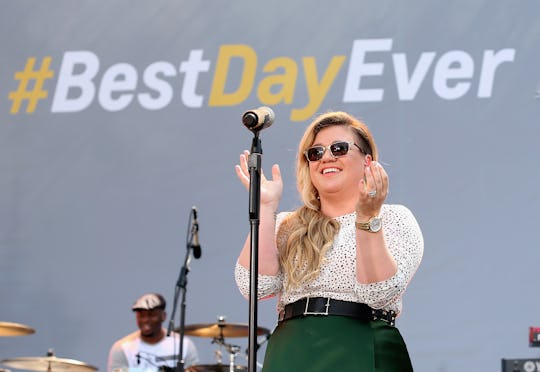 Christopher Polk/Getty Images Entertainment/Getty Images
Photos Of Kelly Clarkson's Baby Are Here & Remington Is As Cute As His Older Sister
After weeks of speculation surrounding when Kelly Clarkson was going to have baby number two, the big day has finally arrived — and baby boy Clarkson is here at last! Clarkson, along with her husband Brandon Blackstock announced the birth of their baby boy, Remington Alexander, on April 14. According to Clarkson's tweet announcement, Remington was born happy and helathy on April 12, and his parents "... couldn't be happier or more in love." Now, in addition to the deets on the birth we finally have a photo of Kelly Clarkson's baby, Remington and he's just as cute as Clarkson and Blackstock's older daughter, River Rose.
First, I'd like to take this opportunity to congratulate Kelly on picking two great names for her babies. I like the name Remington. Remington and River are two really solid names for kids — both a little bit country, but also classic and refined. Nice job with those.
Fans of Clarkson have been able to follow the American Idol Season 1 winner's pregnancy all along the way. She announced she was pregnant last August at a concert at the Staples Center in Los Angeles. To be precise, it was more of a blurted out secret than your typical meticulously planned celeb reveal.
"I was not planning on announcing this but I'm totally pregnant," she spilled in front of the crowd. Just a month later, she was forced to cancel the rest of her tour to give her voice some rest, Us Weekly reported. Clarkson has been open with the media and fans about her difficulties through pregnancy. Here's the big reveal of the newest member in the Clarkson-Blackstock family, Remington Alexander:
Last fall, still early in her pregnancy with Remington, Clarkson explained how much she's struggled with nausea and morning sickness with both babies. "I'm familiar with all-day sickness," Clarkson said on CBS This Morning. "I have to get IVs and fluids because I get so dehydrated. It's really bad."
Poor baby. That's so rough. But now all that's behind her and she's the proud mama of her baby boy. Lucky for us, Clarkson hasn't been shy about sharing sweet pictures of her kids on social media, letting her fans continue to follow along on her journey. She truly seems to relish every single bit of motherhood and it's just the sweetest. Here's River Rose saying "bye" to American Idol after the series' finale.
And here's my very favorite picture of River Rose so far. She didn't seem to enjoy her meet-and-greet with the Easter Bunny. Every parent can totally relate to this.
Fans have watched Kelly grow up in front of our eyes and I think it's so cool of her to be willing to share her babies with us too. We loved watching her stand out from the American Idol crowd as the plucky little girl with a killer set of pipes, and it's been just as fun to watch her evolve into a hit making force in the music industry, a wife, and now a proud mama of her two babies.
Congrats to the Blackstock brood and we can't wait to see what's in store next for the girl who became America's little sis, one song at a time.