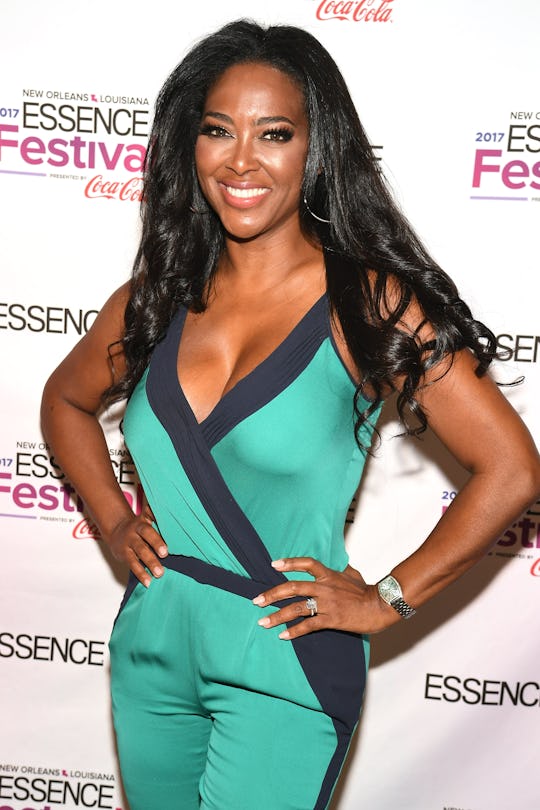 Paras Griffin/Getty
Photos Of Kenya Moore & Her Husband Prove This 'RHOA' Couple Is The Real Deal
When the news broke out that Atlanta Real Housewife Kenya Moore, former Miss USA and "Gone with the Wind Fabulous," had secretly gotten married in-between seasons, I was shocked. Who even is this guy? But photos of Kenya Moore and her husband prove that this RHOA couple is very much in love. Moore's husband is named Marc Daly, and the two of them were married in a small intimate ceremony in St. Lucia this past June. Moore has posted several photos on her Instagram of her new man, which makes me wonder why there was so little fanfare for her actual wedding. This is a woman who really, really loves fanfare.
But Moore was apparently very intent on keeping his identity a secret. In the first episode of the season of Real Housewives of Atlanta she insisted the other women call him "Baby" because she didn't want to reveal his name. I maintain that this is super weird, even if I totally understand why she wants to protect his privacy. In an Instagram post about her elopement in St. Lucia, Moore wrote, "Thank you for all the love, support and well wishes tonight. My wedding was incredibly beautiful, intimate and PRIVATE...that's what we wanted. I married for love not for cameras. I met a man who was so special to me I would have married him at the courthouse."
But since the wedding, Moore has opened up a little bit about her relationship with Daly, by sharing numerous pictures of the two of them on her Instagram account. These two look like everything two adorable little newlyweds should. The posts have shown the two of them bowling with the family, or Moore watching Daly coach kids' soccer. Very cute, you guys.
Earlier photos on Moore's Instagram of the two of them suggest that Daly is generally the kind of guy who never smiles in photographs. Sure, I know logically that he's happy in these pictures, but you wouldn't be able to tell it from his face.
In fact in this picture above you can't see his face at all because it is completely obscured by the shadow from his baseball cap and sunglasses for good measure.
As for why Moore kept the whole wedding, and Daly's identity, a secret for so long, she told People
He didn't sign up for this world, I did. Every time someone has been associated with me, they attack that person — immediately going after them, trying to bring them down and saying crazy things. They tear people apart. And so for [Marc], he was like, 'This is about me and you — it's not about me or you.
It has got to be tough for a couple to deal with that, especially when one person is not famous and doesn't want to be. But I wouldn't worry too much about this couple's future if I were you. Despite the fact that in many of these photos Daly looks rather stern, it appears that he and Moore are doing really well in their relationship.
In fact, Moore was recently spotted at a fertility clinic in Barbados. According to TMZ, sources close to the star have allegedly confirmed that she is undergoing IVF treatments. And she's certainly never made it a secret that she hopes to have children soon. Personally, I think she'd make a great mom.
Though he will reportedly never appear with Moore on The Real Housewives of Atlanta, you can be sure that Daly's existence and Moore's new marriage will cause plenty of drama for all of us viewers to enjoy. She has also said that she plans to have a second, larger wedding celebration with all of the friends and family who missed the first one. Hopefully that includes some cameras and a special on Bravo, because I, too am feeling a little left out.
Check out Romper's new video series, Romper's Doula Diaries:
Watch full episodes of Romper's Doula Diaries on Facebook Watch.