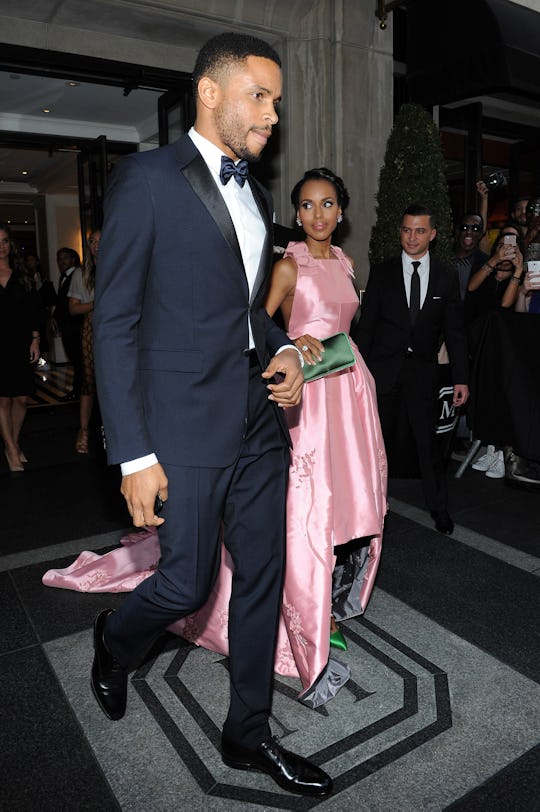 Andrew Toth/Getty Images Entertainment/Getty Images
Photos Of Kerry Washington's Family Are Few Because Privacy Is Very Important To Her
Kerry Washington, star of ABC's Scandal, just welcomed her second child with husband Nnamdi Asomugha — a son named Caleb. The two already have a daughter, Isabelle, who was born in 2014. But chances are you won't be seeing many photos of Kerry Washington's family, because the star is strict about keeping her private life private.
Even though the star has millions of followers on Twitter and Instagram, she hardly ever posts pictures from her personal day to day life. There's plenty of behind-the-scenes looks from award shows, photo shoots and life on the set of Scandal, but she's mindful not to share photos of her children.
Not to say she, like all new moms, hasn't been tempted to gush about her adorable daughter. She told a panel at SXSW, "I have these itchy fingers where I want to post a photo of my daughter, so instead I send it to my shrink or my mother." When asked about why she's so committed to keeping her daughter (and more than likely her newborn son) off the internet, she said that she wants her children "to be able to make those decisions" in their own time. For children whose parents are famous, they often are born into paparazzi-filled days, and it's true that they don't really have any control over it.
Washington's husband, former NFL star Nnamdi Asomugha, is pretty busy in his own career, so the couple isn't even photographed together very often. Even though Asomugha retired from the NFL a few years ago, he's been doing a lot of philanthropic work, serving as chairman of the Asomugha Foundation, which raises money for disadvantaged youth education.
Although reporters and fans have tried to find paparazzi photos of Asomugha and Washington's toddler daughter, Isabelle, they're practically non-existent. As BuzzFeed mentions in an article about Washington's dedication to her family's privacy, the actress used to be a lot more forthcoming about her personal life. But when she married and started raising a family, her priorities shifted.
She told Glamour Magazine earlier this year "I learned through experience that it doesn't work for me to talk about my personal life," the actress said, adding, "But I couldn't just turn around and say 'I only want to talk about the good stuff, not the bad stuff.' So I just thought, OK, no more."
Now, she's got a strategy for maintaining her image and protecting her family's privacy that her Scandal character Olivia Pope would be very proud of.