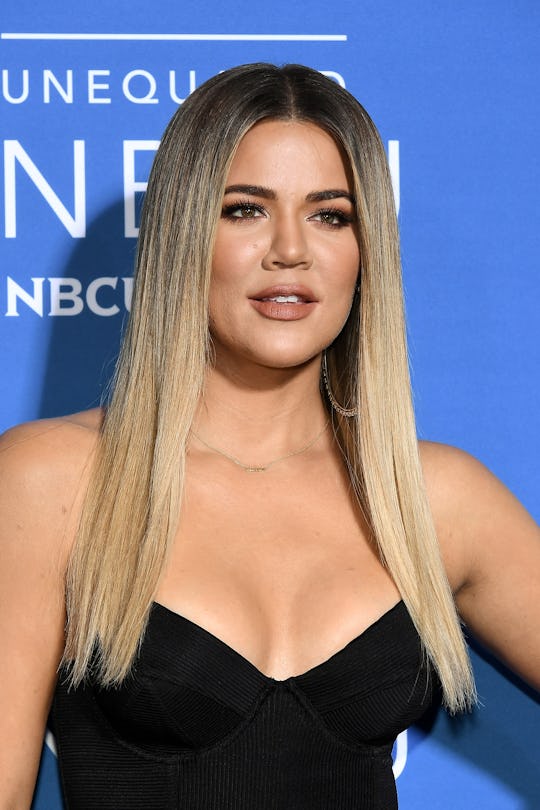 Dia Dipasupil/Getty Images Entertainment/Getty Images
Photos Of Khloe Kardashian's Baby Shower Show The Party Was Over-The-Top Glamorous
Not even a week ago, Khloé Kardashian announced the sex of her first child with boyfriend Tristan Thompson — and it's a girl! Yep. Mama Koko is seeing pink. Despite early reports claiming that the Keeping Up with the Kardashians star was expecting a baby boy, last Sunday's episode revealed she is, in fact, carrying a daughter. Judging my her on-screen reaction, the expecting mama was surprised — and a little disappointed — to find out that her first child is girl. However, it seems as if Kardashian is over the initial shock. Because the reality star seems pretty pumped about welcoming a baby girl these days. Most recently, photos of Khloé Kardashian's baby shower show the celebration was over-the-top glamorous.
On Saturday evening, Kardashian took to Snapchat to share what appears to be a very pink party in honor of her baby girl. I'm talking hundreds (thousands?) of pink balloons, a big, pink, neon sign that reads, "Baby Thompson," pink flowers, and other fabulous pink decorations. Heck, if Kardashian was hesitant to believe she was really pregnant with a daughter, it seems as if she's fully embraced it now. And I don't blame her in the least for wanting to share some photos of the shebang. Just look at her awesome baby shower decor!
Wait, are those gorgeous elephants made entirely out of flowers and plants? *Squints really hard* (I want to touch them ... ) And just look at the place settings, complete with pink African safari animals chillin' out on each plate. Adorbs.
From the looks of it, different shades of pink balloons pretty much covered the entire floor.
Are those cloth diapers, or flowers spelling out, "Girl." I can't decide ... But either way, I'm totally "vibing" with it all, as the Kardashians would say.
It's hard to believe that Khloé's due date is just around the corner, isn't it? Then again, the pregnancy rumors started way back in September — so it's been a long time coming for some fans. After months of speculation, Kardashian finally confirmed that she was expecting her first child via Instagram, People reported. "My greatest dream realized," she wrote on Dec. 20, along with a picture of her bump. "We are having a baby! I had been waiting and wondering but God had a plan all along. He knew what He was doing. I simply had to trust in Him and be patient."
Then, on March 4 — the season 14 finale of Keeping Up With the Kardashians — viewers looked on as Khloé learned she was having a girl, Us Weekly reported. Her little sister, Kylie Jenner, was the one who called with the big news. "You're having a girl!" Kylie announced, to which Khloé responded, "You're lying. Shut up."
"Why would I lie about this?" Kylie asked over the phone. Meanwhile, Khloé is visibly disappointed and fighting back tears.
"I don't feel like I'm having a girl at all. I'm like in a state of shock," Khloé said to her sisters, Kim and Kourtney.
"This is so exciting," Kim said, consoling her sister. "It's OK, I cried when I found out North was going to be a girl, too."
The mom-to-be took to Twitter as the episode unfolded to give a little insight into her candid reaction. "God gives us what we need! His timing is never wrong! My hormones were IN RARE FORM for that news," she tweeted. Shortly after that, she followed up with, "I am now so excited my daughter will have forever best friends with Chicago and Stormi!! God is great!!! Thank you Lord for our princess."
If Kardashian's glamorous baby shower photos are any indication, the mom-to-be has embraced the fact that she will soon have a daughter. And it won't be long now. On Feb. 6, Khloé revealed she was 29 weeks pregnant — which puts her due date around April 24, as The Sun pointed out. The countdown is on!