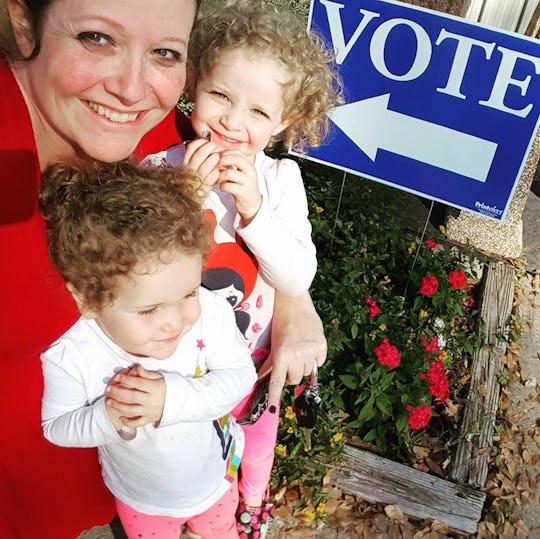 Courtesy of Sara Faris
Photos Of Kids On Election Day Show You're Never Too Young To Rock The Vote
Well America, the day we've been waiting for has finally arrived. Today, Nov. 8, 2016, is Election Day. It is a day where the country's citizens will choose their next leader. It is a day where Americans get to exercise one of their most valued rights: the right to vote. And even though you have to be 18 years old to actually vote in an election, you're never to young to learn about the significance of the voting process. In fact, seeing photos of kids on Election Day will remind that you're never too young to learn about rocking the vote.
In an election season that's been filled with chaos, controversy, and an abundance of name-calling, many people have become angry over the thought of voting. In fact, Vox reported that an estimated 80 to 100 million Americans wouldn't vote in the 2016 election. A true tragedy, considering there are some countries where voting is simply something people dream about, rather than a right that was endowed to you upon birth. Add in the fact that this could be a historic election, and you wonder how anyone could say "Nah, I'll pass."
Luckily for our country, millions of parents not only exercise their right to vote, but share the experience with their children — the future of the country. Here are just a sampling of the kids who witnessed what it means to be an American on one of the most important days of the year.