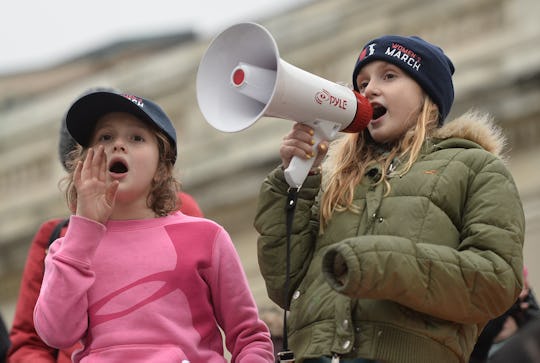 ANDREW CABALLERO-REYNOLDS/AFP/Getty Images
Photos Of Kids & Their Moms From The Women's March
The day after the inauguration of now-President Donald J. Trump, the largest anti-inauguration protest in the history of this country took place in Washington, D.C. and across the United States. As a human being, this protest was important to me. As a woman, this protest was important to me. However, after taking photos of kids and their moms at the Women's March on Washington, as a mother, this protest has forever changed me.
Originally, organizers of the Women's March on Washington secured a permit for an estimated 200,000 people. However, in Washington, D.C. alone, an estimated 500,000 anti-Trump protesters showed up in solidarity of women's rights, Black Lives Matter, LGBTQ rights, the rights of Muslim Americans, and Native Americans the first full day of Trump's presidency. Another group represented in the sea of people? Mothers and their children. As I walked through a seemingly endless crowd of diverse (not to mention, insanely polite) women (and men) I couldn't help but notice all the mothers and daughters and sons of all ages; standing for hours, often swaying or snacking in order to pass the time. To the unforeseen and incredible number of attendees, the parade route was filled to capacity. In other words: there was no place to march, because every square space of parade route was covered with people. The crowd was, for lack of a better description, simply too big.
So, as the sheer number of people overwhelmed and organizers spoke and signs were held high in the air and people talked amongst themselves, I spoke to mothers and their children. I asked moms from all walks of life — LGBTQ mothers, adoptive mothers, women of color, and expecting mothers — why they felt it was so important to make the Women's March on Washington a family event. While their responses varied, a common thread remained: the future is female.