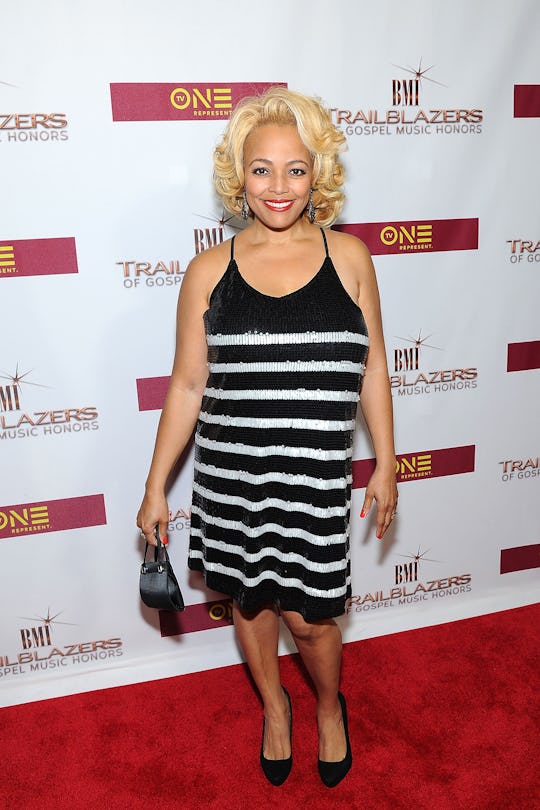 Marcus Ingram/Getty Images Entertainment/Getty Images
Photos Of Kim Fields' Kids Prove The 'Dancing With The Stars' Contestant Is One Proud Mother
Kim Fields had a couple of very enthusiastic (and adorable) supporters cheering for her on in the audience when she made her Dancing With the Stars debut during the premiere episode of the newest season: her kids, Sebastian and Quincy. Anyone who's watched The Real Housewives of Atlanta, in which she clashed pretty spectacularly with the "Gone With the Wind fabulous" Kenya Moore, knows that Kim Fields loves her children, and considers herself to be a mother before anything else. The Facts of Life star could hardly bear to leave them to go on her Real Housewives initiation trip to Miami, and struggled to keep them entertained sans-babysitter on the ladies' trip to Washington D.C. Though the other Housewives were occasionally confused by Kim's nanny-less ways, based on Kim's social media photos, I think it'd be pretty hard for any mother to leave behind such cute little munchkins.
Like many a proud momma, my own included (Hi, mom!), Kim Fields posts pictures of her children pretty obsessively. Sebastian eating breakfast. Quincy taking a nap. Sebastian collecting rocks. Quincy in a car seat. Quincy with his butt in his mom's face. Sebastian snuggling Quincy.
It would almost be too much if it weren't totally obvious how earnestly head-over-heels in love with her children Kim is. So let's take a look at some of the sweetest snapshots Kim has to offer of Sebastian (8) and Quincy (2).
Kim's most recent posts shows her three favorite guys, Sebastian, Quincy, and their dad — Kim's husband Christopher — in the midst of what looks to be a pretty serious cuddle-fest following her big night on Dancing With The Stars. Sebastian, Kim and Christopher's first child, was born in 2007. Quincy was born in December of 2013, meaning he just celebrated his second birthday.
Apparently it pays to have a Broadway star dad and Hollywood royalty mom. The almost-nine-year-old Sebastian got to hang with the cast of The Lion King after seeing the Broadway show, while mom was in NYC to film Dancing With The Stars and Watch What Happens Live. Christopher and Kim were married in July of 2007, shortly after Sebastian was born.
The family also went to the Museum of Natural History while in the Big Apple, which is Kim's home town. Sebastian and Kim pretended to be terrified of dinosaurs while Quincy yawned, probably thinking, these two are straight-up bonkers.
This picture of little Quincy on his little potty is possibly the cutest thing on the Internet right now. (Sorry, North West and cats.)
Almost as adorable is this picture of the whole clan with huge smiles in matching hoodies. As you can see, no matter how Kim does on Dancing with the Stars, she'll always have a huge cheering section for her at home.