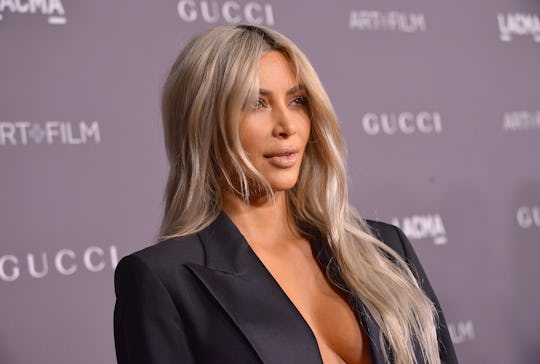 Charley Gallay/Getty Images Entertainment/Getty Images
Photos Of Kim K's New Baby Don't Exist Yet, But Here's When Fans *Could* Expect Them
Well, North and Saint West now have a baby sister! That's right, Kim Kardashian and Kanye West's third child has officially arrived, and the internet is so thrilled for the family. But, if you're looking for those photos of Kim Kardashian's new daughter, then you'll have to sit tight and wait a while longer. But don't panic; considering that fans have gotten to see the couple's two other children — daughter, North, and son, Saint — in photos and on TV at some point after their births, photos of baby number three will likely come eventually.
Kim announced the birth of her third child via surrogate with a sweet announcement on her website on Tuesday. The baby girl was born on Monday, Jan. 15, so considering how recent it all happened and Kim's past history with sharing pictures of her babies, fans probably shouldn't expect to see the couple's little girl right now.
But the now mom of three took to her website to announce the birth of her child with the following message, according to E! News:
Kanye and I are happy to announce the arrival of our healthy, beautiful baby girl. We are incredibly grateful to our surrogate who made our dreams come true with the greatest gift one could give and to our wonderful doctors and nurses for their special care. North and Saint are especially thrilled to welcome their baby sister.
Obviously, Kim and Kanye are probably pretty excited about their new baby after all the struggles they've had getting to this point. And it makes sense that the couple would want to take this time to theirselves, before letting the world in on their new joy.
Looking back, Kim has kind of always taken her time to share any photos of her children after they were born. While her first daughter, North West, was born on June 15, 2013, Kim waited over two months to show the public any photos of the sweet baby girl. And then finally, on Aug. 23, 2015, Kim revealed the sweetest pic of baby North on her mom's talk show, Kris, which is no longer on air. Then, when Kim gave birth to her second child, son Saint West, on Dec. 5, 2015, she also waited a while to share a photo, doing so on Jan. 2, 2016. However, this photo didn't show Saint's face. Instead it was just a really sweet photo of Saint holding hands with his big sister, North, with the caption, "She said, 'He's my best friend.'"
It wasn't until Feb. 22, 2016 that Kim shared a photo of Saint's face, in honor of her father's birthday, who passed away in 2003. It was a full two-and-a-half months after Saint was born that Kim decided to post a photo, much like it was just over two months after North was born that Kim uploaded a pic of her.
So, this time around, fans should probably not expect to see a photo of their third child for at least two months. Of course, Kim could end up surprising fans with an early look at her new little bundle of joy, but she should definitely feel free to do what she wants and take as much time as she needs to just relax with her new baby and bond as a family.
After all, Kim has always been pretty open about her life, which makes sense considering the fact that she, ya know, has her own reality television show. Truly, Kim has talked a lot about her fertility struggles and why she decided to have her third child via surrogacy. So now that her precious baby girl is here, it's totally understandable that Kim wants this time with just her family.
Check out Romper's new video series, Romper's Doula Diaries:
Watch full episodes of Romper's Doula Diaries on Facebook Watch.