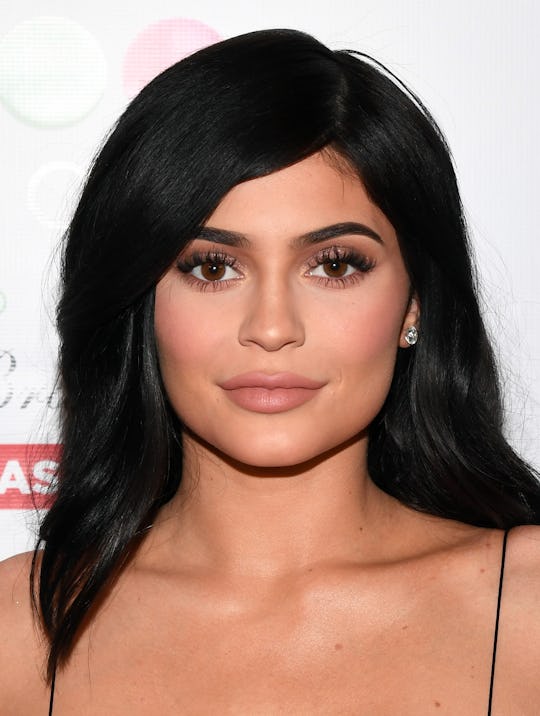 Ethan Miller/Getty Images Entertainment/Getty Images
Take A Look At Photos Of Kylie Jenner Over The First 21 Years Of Her Life
From reality TV star to billion dollar cosmetics mogul, the youngest member of the KarJenner dynasty has had quite a coming-of-age, all of which has been thoroughly documented and consumed by the world at large. There's no question that Kylie Jenner has changed a lot over the past couple of years; The mom of one bears little resemblance to the preteen we met on E! over a decade ago. That's why these photos of Kylie Jenner then and now are so amazing to look at, especially in honor of her 21st birthday.
Though she may have begun on television, Jenner has made a name for herself as a fashion icon and makeup maven. Her looks have become sweeping global trends (think: full lips), and she knows it. This past month, Jenner appeared on the cover of Forbes, touting her near billionaire status, just shortly after appearing on the cover of GQ in an exclusive interview with her boyfriend and father of her daughter, Travis Scott. "I beat to my own drum. My whole family knows that I do whatever I'm going to do. I've been that way my whole life. I don't really answer to anybody," Jenner told GQ. That she doesn't, and it definitely shows.
1. The First Episode Of Keeping Up With the Kardashians
Us Weekly reported that back in October of 2016, Jenner shared an epic throwback of her entire family right before they filmed the very first episode of the show that would make them household names. In it, Jenner is seated to the left of her sisters, at approximately 9 years old.
2. Kylie & Kendall In The Intro To Keeping Up
Nobody watching the show could have predicted at the time that the two little girls standing back-to-back were going to become some of the top paid women in their chosen industries.
3. This Sweet Throwback Jenner Posted On Snapchat
On Thursday, Jenner shared a series of throwback photos to her social media accounts, in honor of her August 10th birthday.
4. Teenage Dream Kylie
Before their respective careers took off, Kendall and Kylie particularly busied themselves throughout their young teens working in modeling, fashion design and other ventures.
5. Kylie Playing "Dolls" With Her Friends
In this super sweet photo she shared on her app back in 2016, Jenner is seen playing with a friend and sister Kendall Jenner. Little did she know that one day she'd be holding a real baby. (Props to anyone who noticed the adorable "Vote for Bruce" t-shirt. Manager Kris never sleeps.)
6. Kylie Singing At A Gwen Stefani Concert
Before she was a household name herself, Jenner actually appeared on stage as an audience member at a Gwen Stefani concert. Stefani handed her the microphone into which she sang: "B-A-N-A-N-A-S," the iconic line from her song, "Hollaback Girl."
7. Kylie Growing Up
Sporting blue hair and the lip injections that were talked about around the world, back in 2015 Jenner told TIME: "I just want to inspire my fans to be whoever they want to be, because that's what I've always done. And they know that."
8. Kendall & Kylie All Grown Up
This 2016 post was captioned: "Young Jenners," though of course, it's the girls looking more grown up than ever.
9. Collaborating With Sister Kim Kardashian West On KKW Beauty/Kylie Jenner Lip Kits
The two makeup icons joined forces to do a collaboration lip kit. "I love being able to collaborate with my sisters," Jenner wrote on the photo. "It was so fun creating something authentic and organic to [Kim Kardashian] with this new Créme Liquid Lipstick formula. Hope you guys love it!"
10. Kylie & Her Baby Daughter Stormi
Though Jenner has been decidedly low-profile about the whole giving birth and raising a baby thing (she didn't even announce her pregnancy until after Stormi was already born, which makes sense given that she was likely trying to shield her from the world as best she could). However, every now and again Jenner will share a photo of herself and her daughter on her social media feeds. This April photo was captioned: "Angel baby."
11. The Iconic 2018 Met Gala Look
In one of her very first outings since the birth of their daughter, Jenner and boyfriend Travis Scott hit the red carpet at the year's biggest fashion event, The Met Gala. Jenner captioned her photo: "Parent's night out."
12. Her Forbes Cover Story
Jenner was featured in the magazine alongside "momager" Kris Jenner.
13. Kylie Today
In one of her most recent Instagram photos, Jenner looks as happy, glowing and as creative as ever. There's no doubt that our girl is thriving, and the world is just going to have to try to keep keeping up.