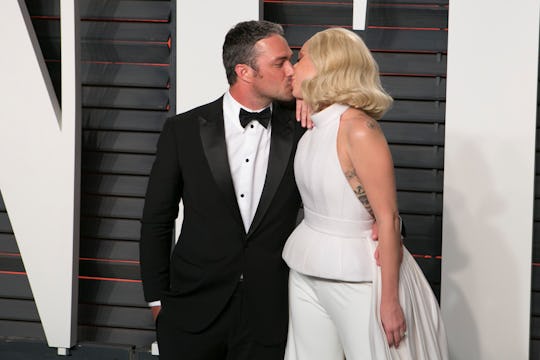 ADRIAN SANCHEZ-GONZALEZ/AFP/Getty Images
Photos Of Lady Gaga & Taylor Kinney That Will Give You All The Feels About Their Breakup
That's it. This year is officially the year love died. In addition to all of the heartbreaking things happening in the world, now TMZ reported that Lady Gaga and Taylor Kinney have broken up, breaking my heart in the process. I was invested in this beautiful couple! Those two famous, fabulous people will likely mourn the relationship, and they certainly won't be alone — fans will feel the pain too. In their honor, here are the best photos of Lady Gaga and Taylor Kinney that will give you serious emotions about their breakup. Sniff.
The couple, according to TMZ, have called it quits on their engagement and five-year relationship. There were signs things weren't going well when Gaga was spotted without her ring and Taylor celebrated his 35th birthday alone. TMZ reported that Lady Gaga is currently hanging in Cabo.
The awesome couple got engaged in 2015 on Valentine's Day. Gaga posted an Instagram of the gigantic, heart-shaped diamond ring from Lorraine Schwartz with the caption, "He gave me his heart on Valentine's Day, and I said YES!"
The couple met in 2011 when Kinney starred as her love interest in her video for "You & I," according to US Magazine. Gaga and Kinney broke up once before, in May 2012, US Magazine reported, but quickly got back together.
Is it too much to hope this is just another brief break? I mean, the two shared two French Bulldogs. Here a some of the best pictures of Lady Gaga and Taylor Kinney throughout their relationship.
The couple in happier times...
Lookin' A Little Country
Chatting Between Awards
Taking tThe Polar Plunge In Chicago
At The Premiere For Rock the Kasbah
Sharing An Awards After Party Kiss
But That Ring!
Looking Like Posed Statues For The Cameras
Doing A Crossword Together
Supporting The Forest
Celebrating The Holidays
Just Being Adorable
When Gaga Was Billboard's Woman Of The Year
Gaga Sans Makeup, Just Hanging Out
The Couple Looking Like They Stepped Off Of A Runway
Attending An Event At The Kennedy Center
Attending The Bazaar Magazine Party
At A Garth Brooks Concert Singing "I Got Friends In Low Places"
With Bangs
Because Everyone Needs A Mirror Selfie With Their Pet
Looking back through the pictures, it's easy to remember Gaga and Kinney were a show biz power couple everyone loved to root for. It's been a great five years, you guys. And although we don't know the particulars of the breakup, or who initiated ending the relationship, it's been fun watching these two gorgeous people be in love, and I hope they both find it again in their own time.