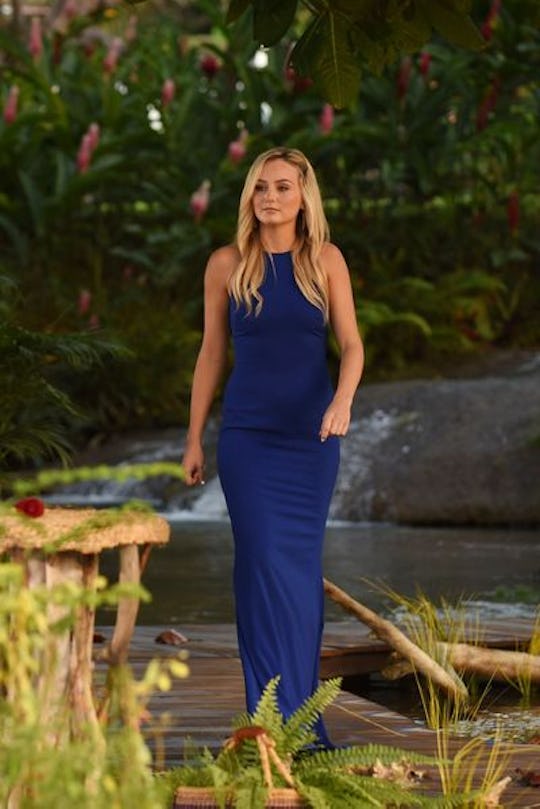 ABC
Photos Of Lauren B.'s Engagement Ring From 'The Bachelor' Finale Show It's Really Something
Ben Higgins finally sorted out his conflicted heart on The Bachelor finale and eventually proposed to Lauren B. But once that was out of the way, we could focus on what was really important: photos of Lauren B.'s engagement ring. As in past seasons, Neil Lane delivered a diamond for The Bachelor, which Ben got a hand in designing in an effort to capture ~the essence~ of the woman he chose. According to US Weekly, the whopping 3-carat emerald cut ring cost in the neighborhood of $100,000. (The Bachelor oh-so-kindly does not force its gents to cough up the money for their own rings.)
Lane was patiently waiting in the live studio audience of The Bachelor finale with the wedding rings in hand. After Ben's remark during the "Women Tell All" special about how he was ready to get married right away, Chris Harrison hatched a plot to hold him to it by gathering all the elements ahead of time for Ben and the woman he chose to get hitched right away. (Lauren B.'s parents, JoJo's parents, Ben's parents, and his childhood pastor were also on hand for a just-in-case wedding.)
While meeting up with Lane on the island of Jamaica to choose from a variety of designs, Ben revealed, "Looking down at the ring, I do know who it is."
Yes, some folks thought it was weird that Ben said his decision became clear to him based on looking at the engagement rings. But here are a few snaps of the lucky winner:
And if you aren't a fan of emerald cut engagement rings, don't worry. You're not alone...
Best of luck to Ben, Lauren, and a ring almost as expensive as raising a child.