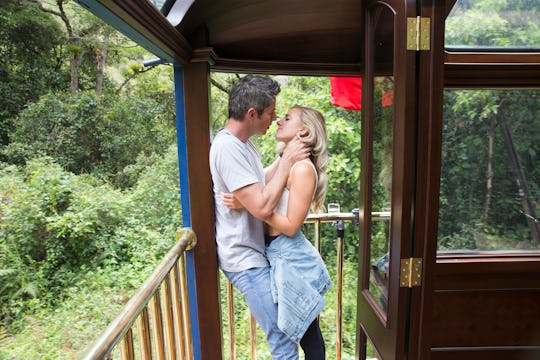 Paul Hebert/ABC
'Bachelor' Fans Need To See These Photos Of Lauren B.'s Engagement Ring
Ah, true love. There really is nothing quite like it — especially as it is on The Bachelor, where engagements last about as long as the official recommended lifespan of a toothbrush. A few months after proposing to Becca at the end of his season of The Bachelor, Arie changed his mind and proposed to Lauren B. on the After the Final Rose special. Because I have my priorities in order, I've managed to track down photos of Lauren's engagement ring because everyone wants to know how it compares to the one Becca was wearing not too long ago.
At the end of his season of The Bachelor, Arie had finally decided to choose Becca, though he clearly loved both women. He had the requisite meeting with Neil Lane, and selected a giant oval cut sparkler for his now-ex-bride-to-be. The question on everybody's lips at this point is, naturally, does Lauren's ring look exactly the same? Is Arie allowed to pick two Neil Lane diamond rings? Or did Becca just return the ring to Arie and he regifted it? If so, that would be both savvy and a little gross. But it looks like Lauren got a ring of her very own to match her own personality and not Becca's. Obviously, it is beautiful.
Though the engagements do not always last on this show, The Bachelor always provides the final contestants with a giant engagement ring from Neil Lane. Us Weekly reported that Becca's engagement ring cost a whopping $80,000, so presumably Lauren's ring cost about the same amount.
Arie proposed to Lauren on the After the Final Rose special, an admittedly awkward moment. The episode, as well as the finale episode on Monday, went over Arie's breakup with Becca in excruciating detail, as well as showing how Arie flew to Virginia to start up his relationship with Lauren again. They didn't have quite the support that many Bachelor proposals do, but it does seem like they are honestly very happy together. Arie told Lauren that she was his soulmate and got down on one knee to slide this enormous sparkler on her ring finger. The shot was just slow enough that you could see that the ring was huge and gorgeous, but not so close that it was possible to get a great look at it.
What I can tell you from my several times rewinding this moment to get a better look is that at the very least it is not the same ring as Becca's. Becca's ring was a large oval cut diamond, with smaller diamonds around it. It was bright and shiny just like she is. Lauren's ring was also bright and shiny, but from what I can tell her's is a square cut diamond. And the smaller diamonds around it appear to be somewhat larger than the diamonds around Becca's ring.
The world in general may not be totally happy with Arie right now — Bekah M. went so far as to say she hopes Lauren gets out as soon as possible on the After the Final Rose special — but I have to admit that the two of them do look very happy together. And Lauren's ring is just as gorgeous as Becca's.
Though all the specifics about the ring are not available quite yet, don't forget that this is Bachelor Nation, so I'm sure the details and carats and valuations will be coming out very soon. In the meantime, get ready to imagine what Becca's new engagement ring will look like when she wraps up her own season of The Bachelorette.
Check out Romper's new video series, Romper's Doula Diaries:
Watch full episodes of Romper's Doula Diaries on Facebook Watch.