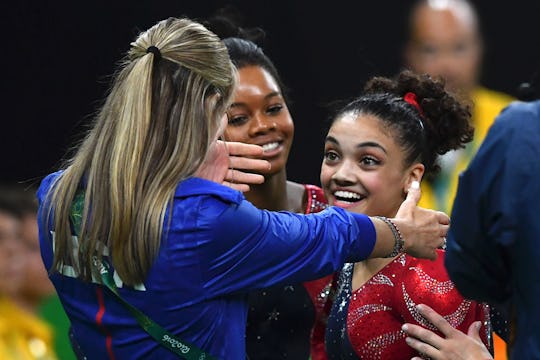 BEN STANSALL/AFP/Getty Images
Photos Of Laurie Hernandez At The Olympics That Make Her All-Around Absence Less Upsetting
It turns out there's a downside to Team USA's Women's Gymnastics Team being possibly the best of all time. Several of the team's five members are serious contenders for a medal in the individual all-around — but because of a technicality, only two of them can compete. It's a tough break, and it's tough to watch. Thankfully, though, we have the internet to make us feel better, and photos of Laurie Hernandez at the Olympics are so adorable that they'll make you feel (kinda-sorta) okay about the fact that the talented powerhouse will be absent from the all-around competition.
Hernandez placed second in the all-around at the U.S. Olympic Trials, which made her a likely candidate to not only compete in the individual all-arounds, but to medal. But there was a catch. Three of Hernandez' teammates on Team USA — Simone Biles, Aly Raisman, and Gabby Douglas —were also all considered contenders for an all-around medal. And because of a controversial rule dictating that only two members of each country's team can compete in the all-arounds, members of Team USA were effectively competing against one another for the spots. Martha Karloyi, the team's coach, needed to decide which of her gymnasts would be allowed to compete in enough events during the qualifying rounds to stack up enough points to qualify to compete in the all-around.
According to USA Today, Hernandez' recent abdominal muscle injury played a part in the decision to pull Hernandez from competing on the uneven bars, which effectively disqualified her from the all-around running. In the end, Biles, Raisman, and Douglas won first, second, and third-place in the all-around qualifying—that's first, second, and third of all gymnasts, from any country. But due to the rule that each team can only send two members, only Raisman and Biles will compete.
That both Hernandez and Douglas, two of the best gymnasts in the world, can't even compete for a well-deserved chance at the medal is depressing. But it's difficult to dwell on the unfairness of it all when Hernandez herself has such an amazing attitude. Ever since arriving in Rio, the 16-year-old from New Jersey has posted photos at her social media accounts that reveal a fun-loving teen relishing the adventure of her time as an Olympian.
"Always laughing when I'm with these girls," Hernandez wrote of the video clip, above, on her Instagram account. "Rare pic of mama Aly tucking me in," she wrote of the photo, below, of her and 22-year-old Raisman. (That's right: at 22, Raisman is 'mama Aly.')
Hernandez's infectiously positive attitude has been a point of discussion because it influences her style during her perennially watchable floor routines. According to Slate's Rebecca Schuman, Hernandez is the "savior" of the floor exercise, which has lost its artistry ever since international scoring rules essentially stripped the importance of artistry and dance in favor of technical excellence. Deeming her style "100 percent pure infectious joy," Schuman praised Hernandez for her "verve, personality, beauty, rhythm, and grace."
Unfortunately, Hernandez won't compete for an individual medal on the floor —her favorite event — because the aforementioned two-per-country rule applies to all the individual competitions, not just the all-around. But, as this photo of Hernandez killing it at floor during the qualifying rounds shows, she didn't let it get to her, at least not too much. She was still having a great time.
So yes. It's unfortunate that we won't get to root for Laurie Hernandez at the individual all-around competition later this week. But how can you stay mad after seeing a cheerful face like that? (Note: You can't.)